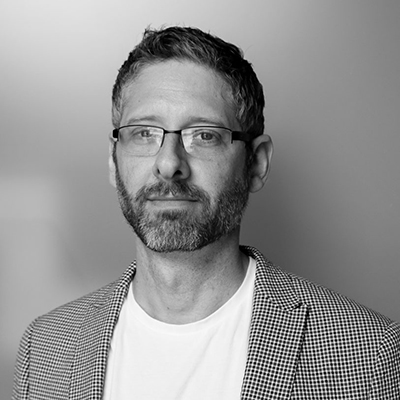 Michael Ezban | RA | ASLA | LEED AP
Assistant Director of Graduate Architecture ; Assistant Clinical Professor
Room 1209
---
Biography
Michael Ezban is an architect, landscape designer, author, and educator. Ezban is Assistant Director of Graduate Architecture and Assistant Clinical Professor in the Architecture Program at the University of Maryland School of Architecture, Planning & Preservation.
Ezban's work is focused on multispecies urbanism, and the design of landscapes and buildings that foster entanglements between humans and other animals. His first book, Aquaculture Landscapes: Fish Farms and the Public Realm (Routledge, 2019), explores the landscape architecture of farms, reefs, parks, and cities that entwine fish and humans lives. The book was awarded the 2020 JB Jackson Book Prize, an honor bestowed to books that make a significant contribution to the study of garden and landscape design, and that break new ground in method and interpretation through original research.
His writing and speculative works on multispecies environments, including aquaculture landscapes, waterfowl hunting grounds, and equestrian facilities, have been published internationally in journals and books, including Places, Studies in the History of Gardens and Designed Landscapes, Landscape Architecture Frontiers, Landscape Architecture Magazine, Scenario Journal, PLAT, Dimensions, Studio Ecologies (2022), Third Coast Atlas: Prelude to a Plan (2017), and Projective Ecologies (2014).
Ezban's research has been supported by a number of institutions, including the Isabella Stewart Gardner Museum in Boston, Massachusetts, where he served as the 2014 Maeder-York Family Fellow in Landscape Studies, and the Harvard University Graduate School of Design, which funded his international survey of aquaculture landscapes through the Charles Eliot Traveling Fellowship in 2013. He has lectured and exhibited extensively in national and international venues, including the Canada Food and Agriculture Museum (2022), Auburn University (2017), the International Architecture Biennale Rotterdam (2014), the Van Alan Institute (2013), and Harvard University (2013). 
At UMD, Ezban has taught several interdisciplinary studio courses, including stakeholder-based studios through Maryland's Partnership for Action Learning in Sustainability (PALS) program; a studio focused on resilient buildings and landscapes at Assateague Island for the Maryland Department of Natural Resources earned him a 2022 PALS Outstanding Faculty Award. In Spring 2022, Ezban's knowledge of equestrian design informed his ARCH 407 studio, which focused on designs for a new Livestock Teaching Pavilion at UMD's historic campus farm in collaboration with faculty scientists from UMD's School of Agriculture and Natural Resources.
Ezban also brings his expertise in the design of multispecies environments to his service to the University. He represents the School of Architecture, Planning and Preservation as a member of the AgroEcology Corridor Steering Committee, a university-level strategic initiative to transform underused open space on UMD's campus into habitat and productive landscapes for experiential learning. He is also an executive committee member of reACT ThinkTank, a cross-campus, community-centered collaborative that explores environmentally and socially minded solutions to challenges within the built environment.
Prior to teaching at UMD he was an Assistant Professor in Landscape Architecture at the University of Virginia, and he also taught in the Master of Landscape Architecture program at Virginia Tech as a Visiting Assistant Professor. He is cofounder of VanderGoot Ezban Studio, a research-based practice.
Education
Master of Landscape Architecture with distinction
Harvard University
2013
Master of Architecture with distinction
University of Michigan
2007
Bachelor of Science in Architecture
University of Virginia
1998