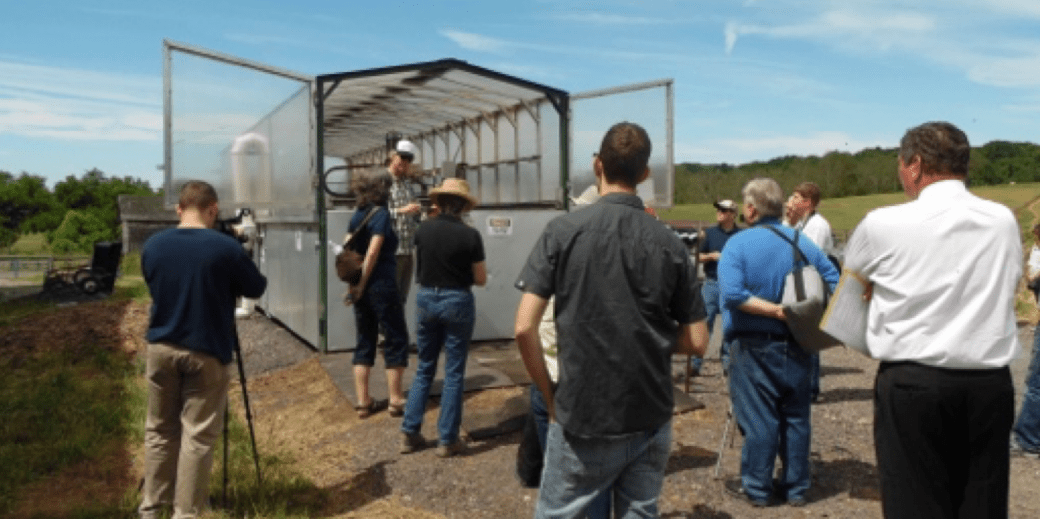 The Maryland Department of Agriculture's Animal Waste Technology Fund (AWTF) provides grants for demonstration projects of innovative technologies for managing animal manure. These technologies are expected to improve on-farm wastemanagement, enhancewater quality, and create new revenue streams for farmers in the form of cost savings and marketable byproducts.
In its first AWTF grantmaking cycle (2014), MDA awarded three grantsto support the installation of four manure management projects on Maryland farms:(1) $388,310 to Green Mountain Technologies, Inc.to install a mobile compost system at Days End Farm Horse Rescue in Howard County and a site-built compost system at Glamour View Farm in Frederick County;1(2) $970,000to Biomass Heating Solutions Limited, Inc.to install a fluidized bed combustion system at Double Trouble Farmin Dorchester County,2and (3) $676,144to Planet Found Energy Developmentto build an anaerobic digestion and nutrient capture system at Millennium Farm in Worcester County.3
The former two projectsinvolve compostinganimal waste (manure, used bedding material, etc.) to transform it intoa stable and usable end product. The latter twoprojectsturnwaste into heat, energy, and various byproducts through combustion and anaerobic digestion, respectively.All of these technologies arerelatively novel, especially in the United States, though the manure-to-energy technologies are particularly nascent and are undergoing considerabletesting and refinement. As a whole, these new technologies facean evolving landscape in terms oftheregulatory, political, and financial factors that will affect their profitability and their adoption on Maryland farms.
The Environmental Finance Center was asked to evaluatethe financial feasibility ofthe four pilot manure management projects, and to assess each technology's potential transferability to other farms in the state.This report presentssummaryfindings from EFC'sfarm-scale financial feasibility assessments(Section II). It also reviews policy, regulatory,and other drivers that might affect the economic viability of themanure management technologies(Section III).The final section(IV) offers recommendations for supporting the success and adoption of alternative manure management projects throughout Maryland. Full farm-scale financial feasibility assessments can be found in the Appendix.
Publication Date
January 2018
Program / Center Affiliation