The Bachelor of Science in Architecture is an accelerated four-year pre-professional program designed to efficiently dovetail with the Master of Architecture, our NAAB-accredited professional degree (and with similar Master of Architecture degrees offered at other institutions).
The Architecture Program offers a four-year undergraduate course of study leading to the Bachelor of Science in Architecture. This degree program is designed to provide students with comprehensive liberal education while delivering rigorous pre-professional study in architecture. Upon completion of the degree requirements for the Bachelor of Science degree, students may apply to continue in the accredited Master of Architecture professional degree program.
The undergraduate program in architecture is designed to minimize the time required to complete the curriculum leading to the professional degree. Many students who complete the Bachelor of Science in Architecture at the University of Maryland continue in our Master of Architecture program or elect to pursue graduate studies at another institution. Many schools of architecture nationwide provide Master of Architecture programs that are compatible with our undergraduate degree (consult the NAAB directory of accredited programs in North America).
The initial years of the program blend general education requirements with foundational work in design thinking and making, design media (manual drawing, digital media, and physical model-making), architectural history and theory, building methods and materials, as well as introductory design studio. 
One feature of the program is the potential for a junior year semester abroad, which is facilitated by a partnership between the University of Maryland and the International Studies Institute in Florence, Italy. Students learn Italian, live in the heart of this historic city, and draw upon the rich history of Italy. Is a semester abroad too long a stay for you? We offer three-week winter term and six-week summer session programs to Italy, Turkey, France, UK, Scandinavia, and more.
Most students will complement their undergraduate major with a minor to give them specific academic credentials in a particular field. Some of the most popular minors are:
Senior year includes capstone projects that work directly with communities throughout the state of Maryland to address real-world problems. The Partnership for Action Learning in Sustainability (PALS) program brings the intellectual powerhouse of Maryland students into direct service of citizens throughout the state. The opportunity to share your ideas with non-architects helps you to find your own professional voice.
What happens after you complete your degree? Some graduates elect to spend a year or two away from academia in order to develop their professional interests while working as paid interns in an office. Many students will continue to complete their professional degree either here at Maryland or at one of the many NAAB-accredited programs nationwide.
 
For important information on degree accreditation and professional licensure please follow this link.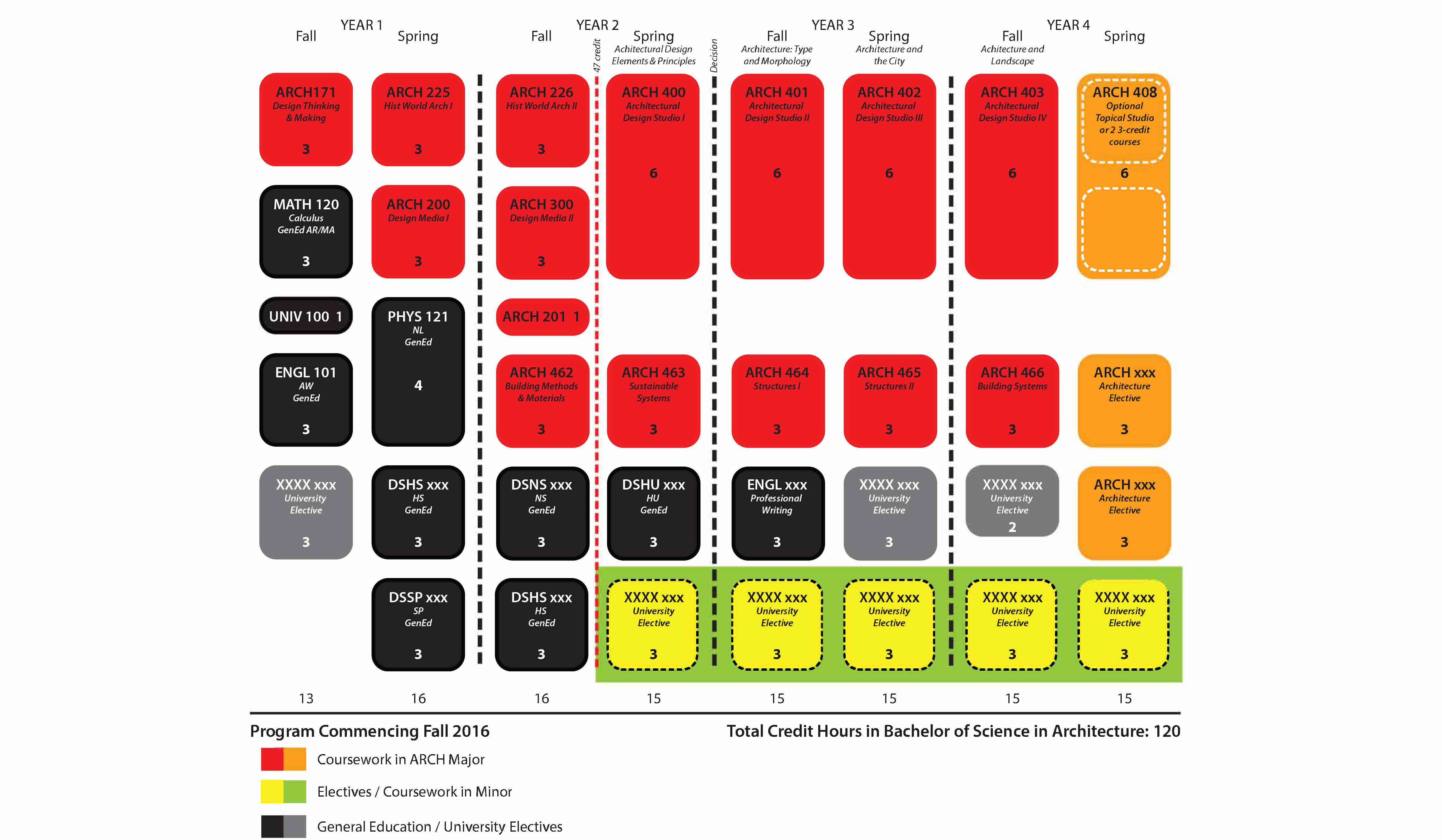 COURSES
Visit the Courses page to view all courses offered by the Architecture Program. 
For a list of courses offered this semester, visit Testudo. 
Contact Mohammad Gharipour, ARCH Director