The Bachelor of Arts in Architecture degree track is an intensive liberal arts degree track that empowers students to explore a variety of interests and apply their knowledge to diverse career opportunities, including graduate study in architecture.
This degree program enables students to study architecture at the undergraduate level while keeping their career options open and pursuing other interests that supplement their liberal arts education. Students work directly with advisors in our Student Services Office to ensure a program is tailored to their interests, strengths, and career objectives. Some students who enter our program discover that their interests are broader than architecture alone. 
Consider Max, a student who studied architecture as an undergraduate, but over the course of his education discovered that his passion was at the scale of the city. After two summer internships in his junior and senior years with local planning offices, Max enrolled in the school's Urban Studies and Planning Program where he received his Master of Community Planning degree. Max is using the design thinking skills acquired through his undergraduate degree to his competitive advantage among his peers in urban planning. 
Then there's Rameez, who studied architecture as an undergraduate but also knew he wanted a career that combined his creative instincts with an affinity for finance and economics. Rameez joined the Master of Real Estate Development program and is today working for a major Washington, D.C.-area developer. During his graduate education, Rameez was a team member on the Urban Land Institute / Gerald D. Hines Competition. He, along with four other teammates from Maryland, won first place in this international competition and shared $50,000 in prize money. How's that for an entrepreneurial start?
Abby was an undergraduate in the architecture program when she discovered her deep interests in historic preservation. As a participant in one of our Partnership for Action Learning in Sustainability (PALS) programs that focused on the City of Frederick, Maryland, Abby saw that there was no guide to the historic architecture of the city. So she made one! The tour guide was featured in The Frederick News Post and provides citizens and visitors alike with an insightful tour of the city's heritage. As Abby prepares for graduation, she has already demonstrated that she has the skills, knowledge, and motivation that will be valued in practice. 
The initial years of the program blend general education requirements with foundational work in design thinking and making, design media (manual drawing, digital media, and physical model-making), architectural history and theory, building methods and materials, as well as introductory design studio. 
One feature of the program is the potential for a junior year semester abroad, which is facilitated by a partnership between the University of Maryland and the International Studies Institute in Florence, Italy. Students learn Italian, live in the heart of this historic city, and draw upon the rich history of Italy. Is a semester abroad too long a stay for you? We offer three-week winter term and six-week summer session programs to Italy, Turkey, France, UK, Scandinavia, and more.
Most students will complement their undergraduate major with a minor to give them specific academic credentials in a particular field. Some of the most popular minors are:
In the final semesters of the program students work in teams and individually on projects that focus on their specific career interests and goals. The Bachelor of Architecture degree is a launch pad for an infinite number of career options.
 
For important information on degree accreditation and professional licensure please follow this link.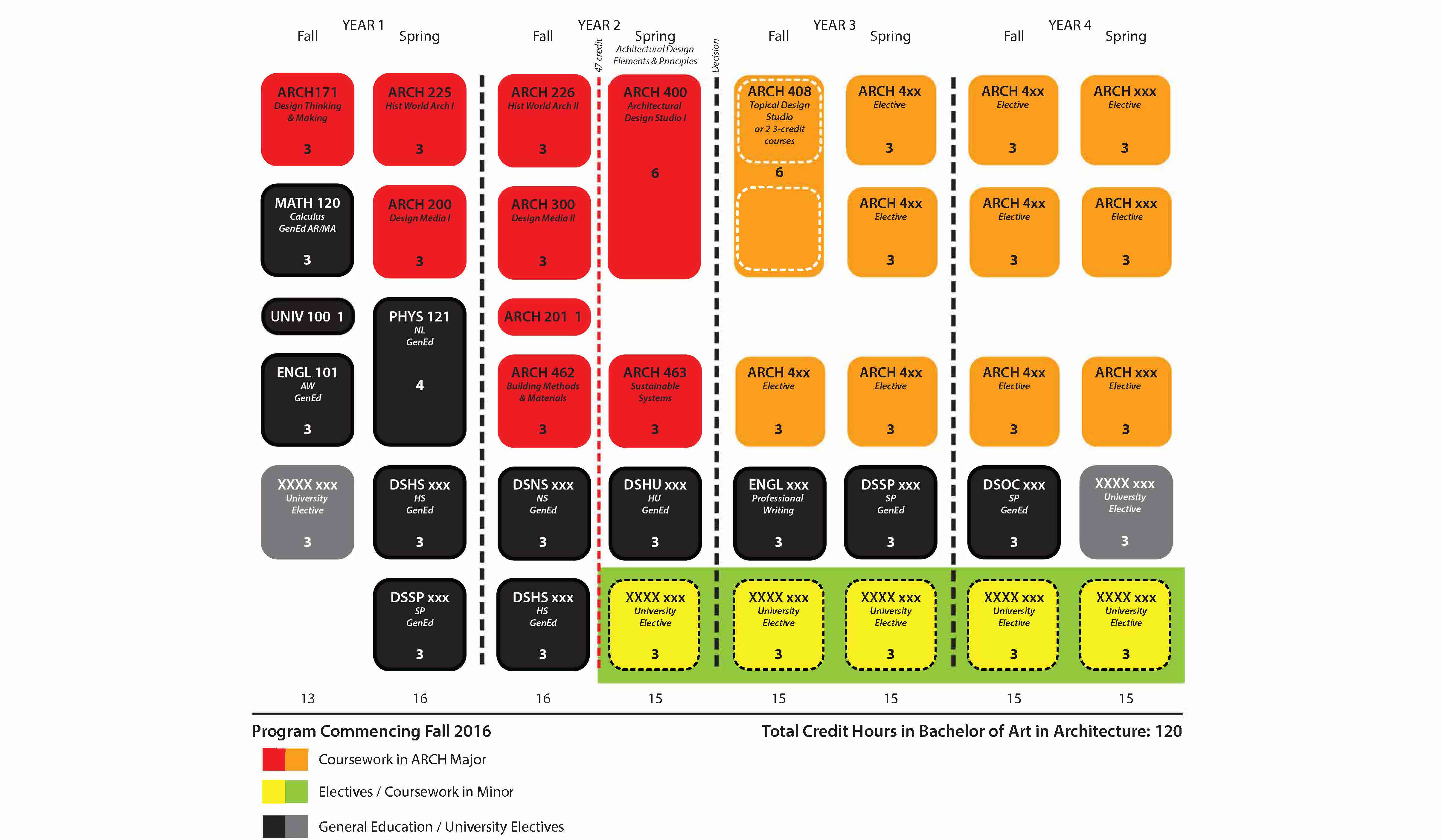 COURSES
Visit the Courses page to view all courses offered by the Architecture Program. 
For a list of courses offered this semester, visit Testudo.