For days, architect Larysa Kurylas '80 had weighed her safety working in Kyiv against the advice of her American ex-pat and Ukrainian friends who were skeptical of a Russian advance on the capital.
But in the early hours of Feb. 11, unable to sleep in her apartment, she tuned into "PBS NewsHour" and learned of the rising possibility of President Vladimir Putin ordering an invasion. Within hours, she had a train ticket to Lviv—40 kilometers from the Polish border—the fate of her parents' home country, many friends and her research all uncertain. 
Now the giant map of Ukraine resting on her unfamiliar apartment windowsill in Warsaw serves a grim new purpose. Purchased to trace her planned visits to Ukrainian memorial sites as a Ukraine Fulbright Scholar, Kurylas is using it to track the Russian military's march into the country.
"My intellectual pursuit seems so irrelevant now in light of Ukraine's existential threat," she said from Warsaw. "It seemed that, after 30 years of independence, Ukraine as a nation—even with its flaws—was out of the woods. It is heartbreaking that it must fight an existential battle yet again."
Kurylas had arrived in Kyiv on Feb. 1 for a months-long endeavor to examine how design techniques used across Ukraine have shifted since its break from the Soviet Union 30 years ago—gravitating away from the Soviets' figurative style of monumental statues and memorials to more Western, abstract or reflective interpretations of events including the Stalin-engineered famine known as Holodomor, the tragedy of Chernobyl and the Orange and Euromaidan revolutions.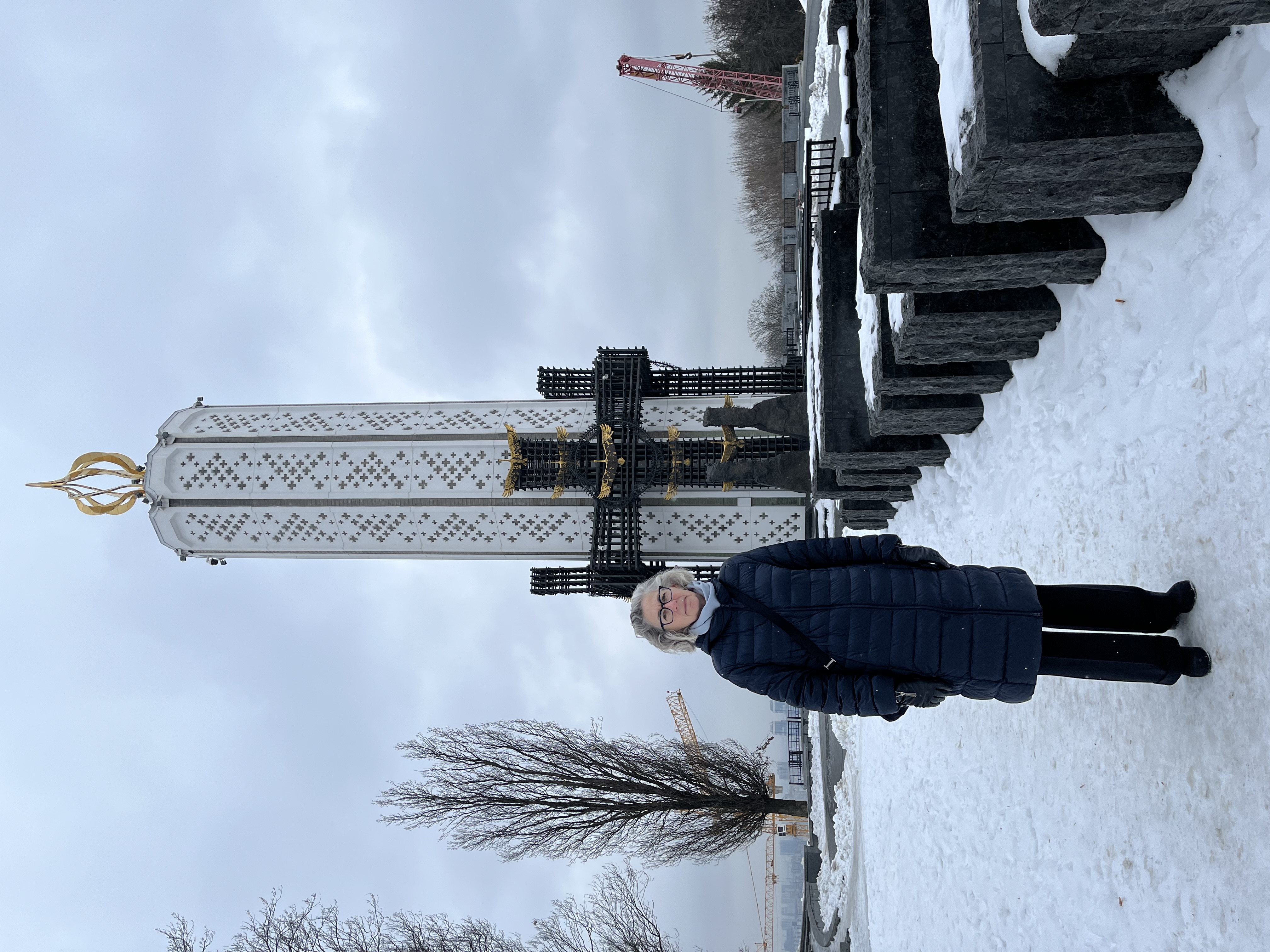 As in the United States, Ukraine's memorialization of events and people has evolved amid contrasting identities and a multicultural population. Still emerging in some ways from the enforced ideology of the Soviet era, Ukraine grapples with representing its complex history, including the role and commemoration of nationalist leaders, World War II and the Holocaust, as well as broader questions about how Ukraine should envision itself as an independent country in the shadow of a powerful, overbearing neighbor, Russia. 
"The independent and multicultural Ukraine grapples with establishing its own historical narrative and on "who" and "what" to commemorate," said Kurylas, who is working with the Ukrainian Institute of National Memory in Kyiv, the National Union of Architects of Ukraine and regional architectural faculty. "While this is a subject worthy of study in itself, the focus of my research will strictly be on 'how,' or the form that memorialization is taking."
Raised by her immigrant parents in Baltimore and Wheaton, Md., Kurylas is familiar with the history between Russia and Ukraine. In 2009, she won an international competition to design the Holodomor memorial in Washington, D.C. Completed in 2015, it's a tribute to the almost 4 million Ukrainian lives lost in 1932 as Soviet dictator Joseph Stalin sought to bring the country's wheat farms into a government-owned collective agricultural system.
For 10 days in February, Kurylas visited memorials in and around Kyiv before evacuating; among them were various installations at the Babyn Yar Holocaust memorial site, where Nazis executed 100,000 Jews and other political prisoners between 1941 and 1943; it was struck by a Russian missile last week.
She also saw one of the country's most recent memorials, honoring victims of the 2014 Maidan Revolution of Dignity: a temporary shrine in the center of Kyiv that fluctuates with the flowers, candles and tokens left by visitors. The winning design for its permanent home is an "undeniable departure" from the monumental and anonymous memorials of the Soviet era, said Kurylas, offering a place of reflection for the individual sacrifices of the "Heavenly Hundred" killed by sniper fire during the uprising. A line of 100 maple trees, strategically switching back as it climbs a hill to the memorial, she said, will symbolize Ukraine's difficult road to freedom, one that she fears may end with the Russian conflict.
"The Maidan Memorial is different and reflects Ukraine's aspirational goals," she wrote. "This is history created in recent memory and so relevant to the reason for Putin's invasion of Ukraine. Ukraine's threat to Putin is not military. It is ideological. If Ukraine establishes itself as a successful democracy on Russia's border, with an improving standard of living, Russians will ask, 'And why not us?'"
The fate of Ukraine's memorials, Kurylas said, depends entirely on Putin's success; any structures that deviate from his ideology will be destroyed—much like the removal of pro-Communist monuments after the fall of the Soviet Union. If Ukraine prevails, Kurylas envisions these memorials as tangible reminders of its quest for democratic freedom, a story not yet complete.
"When the war ends, I vow to travel all over Ukraine to resume my original research," she said. "And I see a new category of memorials cropping up throughout the country honoring both the sacrifices and victory of Ukraine in the Russian-Ukrainian War of 2022."       
---

Architecture Building Hosts Exhibit on Alum-Designed Memorial to Ukrainian Famine
An exhibit on Washington, D.C.'s memorial to the Holodomor, the famine imposed on Ukrainians by Joseph Stalin in 1932-33, is on view at the Architecture Building's Kibel Gallery.
"Making the Holodomor Memorial: Context & Questions" explores the role of public memorials and how they can be used to process loss and trauma. The 30-foot-long memorial, designed by Larysa Kurylas '80, is located near Union Station and depicts stalks of wheat, one of Ukraine's most plentiful crops, fading into nothingness.
The exhibit debuted in 2021 and has taken on new resonance after the invasion of Ukraine last week. Kurylas, who was born in the U.S. to Ukrainian immigrants, told Maryland Today in 2020 that she felt "practically duty-bound" to design the memorial. "I hope people have an emotional response," she said.
Program / Center Affiliation