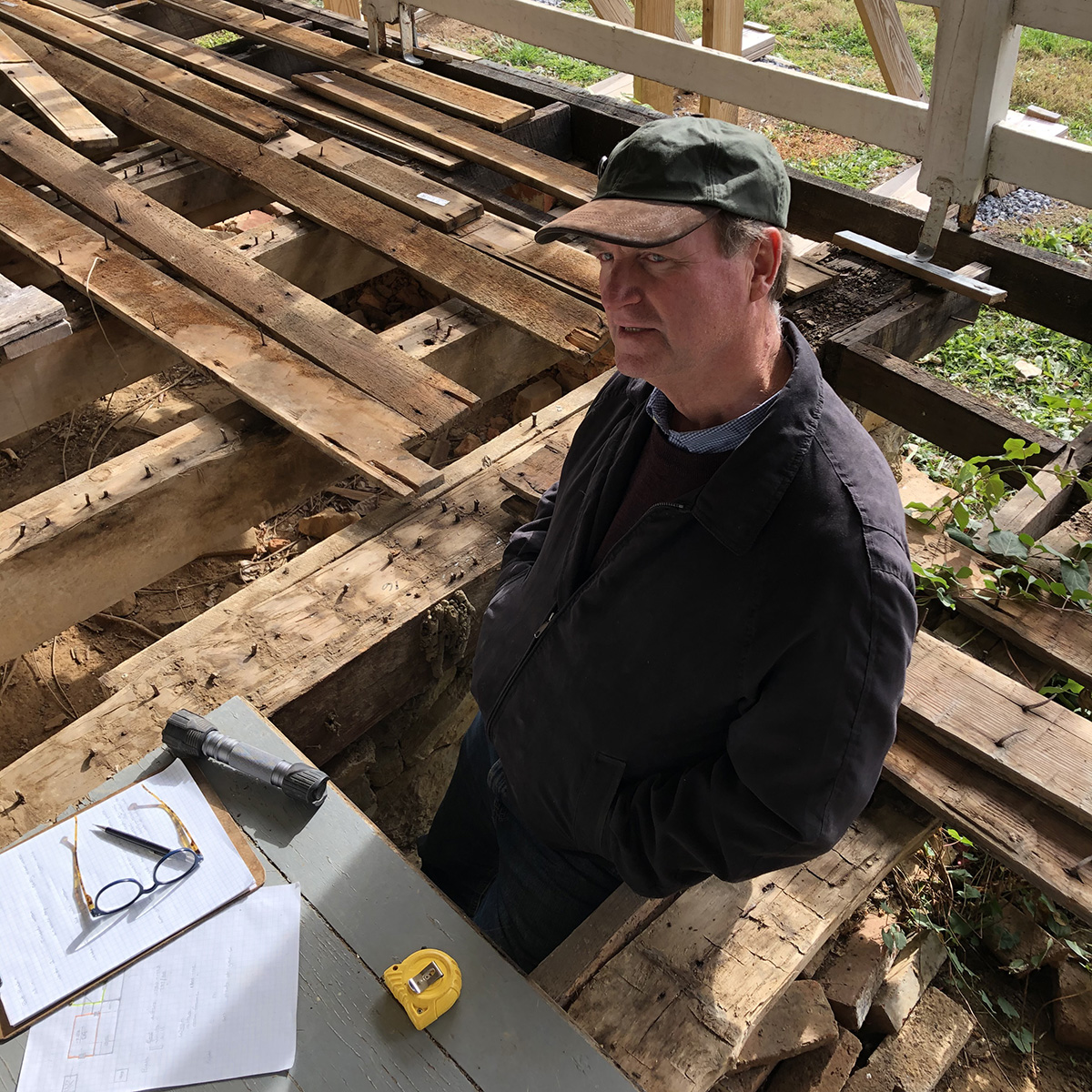 In the summer of 1976, Dennis Pogue found something unexpected while sifting through the dirt at Virginia's Belle Grove Plantation: his future. Fresh out of college and a thousand miles from home, Pogue's indoctrination into historical archeology, part of an eight-week field school sponsored by the National Trust, was a bit of a revelation, and an opportunity to take his love for history and make it into a life.
"I always assumed I'd stay in the Midwest and become a history teacher, maybe coach tennis," he said. "The guy who ran the field school was really charismatic and he made the work seem fun and important and interesting. I was excited by the idea that you could dig stuff up, interpret it and then find a way to use it in an educational way. That was my take-off."
What followed was an extraordinary career in 17th- and 18th-century archeological history and preservation that stretched from the grounds of Mount Vernon to the tobacco barns of St. Mary's County, eventually leading him to the University of Maryland (UMD). Beneath his midwestern warmth and unassuming exterior—which includes an affinity for oxford button downs and the occasional Hawaiian shirt—is a depth of knowledge and eye for the built and natural environment that is unmatched anywhere in the region.
"Few people can read a building as well as Dennis can," said colleague and friend John Sprinkle, bureau historian for the National Park Service and adjunct professor at UMD. "A generation of young professionals benefited from the authenticity, knowledge and care he brought to the program. That emphasis is something his students will reflect on and that will serve them well—and ultimately, will serve the university well too."
After eight years of teaching and leadership for UMD's Historic Preservation Program, Pogue will retire this summer, leaving behind an indelible mark on the program and hundreds of students and colleagues.
Born and raised in Iowa City and the first in his family to go to college, Pogue earned his bachelor's in history from the University of Iowa, gravitating east after his experience at Belle Grove to pursue degrees in museum studies from George Washington University and anthropology from American University. After graduating, Pogue joined "the pony herd," taking seasonal digging jobs for the Maryland Historic Trust, Colonial Williamsburg and plantation sites across the region, eventually landing a position at the pinnacle of colonial-era archetypes, George Washington's Mount Vernon.
Rising through the ranks, he was instrumental in the restoration of Washington's mansion, gardens and other structures, serving as an archeologist and, later, as a museum administrator. After the estate's new director laid out a vision for new content, Pogue's skills were leveraged to identify and reconstruct new sites on the property to tell a more complete story of Washington's home through the everyday; during Pogue's 25-year tenure, he led reconstruction efforts and programming of a number of projects, including the property's 16-sided treading barn, a blacksmith's shop, dung repository and Washington's whiskey distillery.
"We wanted to expand the program beyond Washington to uncover the stories of the people who built the estate and worked the land, and share those stories with a wider audience," said Pogue. "And as time went on, that included stories typically not told."
It was Pogue who helped spearhead the estate's comprehensive program around the lives of Washington's enslaved people, which yields one of the largest collections of artifacts associated with 1800s-era slavery. Pogue's work documenting homes of the enslaved continues today; together with Doug Sanford, a colleague from University of Mary Washington, he has amassed a public database of over 100 former slave dwellings across Virginia, thought to be one of the first concerted efforts to document and preserve these living quarters in the American South. 
"Dennis' early archaeological work on 17th-century and early 18th-century sites provided a new avenue for the study of the short-lived building practices of ordinary planters," said longtime friend and colleague William Graham, who, along with Pogue, is part of an elite group of historians nicknamed "the Chesapeake Mafia." Graham explains that by shedding light on the architecture of the enslaved, the laborers and farmers and the disenfranchised, Pogue adds to the color and complexity of Tidewater society in the first few hundred years of settlement. "He discovered emerging planning schemes to house the enslaved workers and servants just when importation of enslaved people into the Chesapeake reached critical levels and when architecture of the region evolved to help shape the social order, which persisted there for generations to come."
When Pogue found himself a casualty of a reorganization at Mount Vernon in 2012, longtime colleague Donald Linebaugh coaxed him into coming to Maryland, first to teach an honors course and, later, pinch hitting as director when Linebaugh was on sabbatical.
"We figured if we didn't snatch him up, someone else was going to," said Linebaugh. "Dennis brings a real appreciation and understanding of the material and the landscapes, not just above the ground, but below it; the archeological discoveries that often hint to the activities that took place in a building. Bringing that archeology helps populate the building and tell a really effective story. It's an experience that many students in other preservation programs don't get."
At Maryland, Dennis became a well-known, active fixture within the program. He taught a growing roster of courses and was named director of the program in 2018 when Linebaugh became interim dean. But Pogue's favorite place to commune with his students was in the field; he is in his element among the colonial-era buildings and barns, scaling fences to point out an architectural marvel or sharing a mortise and tenon joint with unbridled excitement. He shows that same interest and enthusiasm for his students' passions and pursuits, eager to talk them through a discouragement, challenge them to approach a problem differently or encourage them to seize every advantage.
"It was this unspoken piece of advice to really to see everything there is to see," said former student Sara Baum (MHP '20). "I don't just admire a building from afar now, I stop the car and take a picture of it. I think a little bit of your professor's personality rubs off on you and I'm thankful that it was Dennis' personality."
In many ways, as Pogue was teaching his students America's rich history, he was revisiting some of his own, emulating that charismatic teacher from Belle Grove where it all started.
"I benefited from a lot of help in my career and some really strong mentors," he said. "People who made it fun, but who also thought it was important to share that dedication and knowledge with the next generation. I've always wanted to do that. Supporting students and helping them—that's always been a big part of my motivation throughout my career and being at Maryland has allowed me to do that even more than I had before."
---
Honor Dennis's significant contribution to the University of Maryland with a contribution of your own. The Historic Preservation Scholarship Fund, a cause he has personally invested in, is a great way to honor Dennis's legacy at his retirement.