It's a beautiful April afternoon and ARCH 402 students are sketching unit layouts for a multifamily housing project. Clinical Assistant Professor of Architecture Brittany Williams is reviewing one student's work while others observe, offering feedback on outdoor spaces and sketching over the drawing to show how they might consider light and air in their design. It is a typical scene for the undergraduate design studio, with one major caveat: it's happening entirely online. The feedback is happening in a Zoom meeting; the sketching, using a stylus and Zoom's annotation tool. Williams is in her home office in historic Laurel, Maryland; her student is at his kitchen table in New Jersey.  
How do you deliver the organic, collaborative environment of design studio through a laptop screen or explore a historic site when you are mandated to stay home? How do you gauge a student's understanding—and general wellbeing—in the absence of facial cues or body language? At Maryland's School of Architecture, Planning and Preservation, delivering a meaningful educational experience in disciplines that traditionally rely on hands-on learning, peer collaboration and physical proximity has required faculty to re-write the pedagogical playbook.
"This is, without a doubt, an incredibly challenging time for our community," says Interim Dean Donald Linebaugh. "It has been inspiring to see everyone come together to find new pathways forward, and to continue to creatively tackle the challenges of our built environment with perseverance and enthusiasm."
As faculty and students brave this new normal, they are finding success in creating despite distance, and discovering potential opportunities for the post-pandemic educational landscape.
From Great Space to Virtual Space: Reinventing the Studio Experience
In the late evening hours of March 19, 2020 President Wallace Loh sent a letter to the UMD campus community announcing what many already suspected: in response to the rapidly worsening pandemic conditions in the United States, online education would be extended through the remainder of the semester. But a week before Loh's announcement, Architecture Program Director Brian Kelly was already making plans, organizing a digital transition advisory group—professional faculty who regularly use technology in their practices—to source the best methods for replicating the visual and collaborative nature of the program's signature course: design studio.
"The idea of a completely virtual design studio was uncharted territory for us, but our practicing faculty engage in these technologies all the time in their professional work," said Kelly. "They were an excellent resource for us and were able to help our faculty community mobilize a plan of action quickly." 
The group—Lindsey May, Peter Noonan, Brittany Williams, Julie Gabrielli, Ken Filler and Douglas Crawford–made two lists: one of studio's day-to-day activities and one listing all the available technology and tools, noting their benefits and shortcomings. Within a week, while students were heading home for spring break, the architecture faculty were meeting virtually to forge a plan that captured the major tenants of instruction, from lectures to small-group critiques, as well as the more indirect, organic benefits of studio life.
According to May, it was these organic, more nuanced aspects of studio that proved to be the biggest hurdle. Many students, for instance, glean meaningful instruction through overheard conversations between instructors and other students, or the informal and impromptu sketching that takes place between peers. Faculty had to consider how they could support more introverted students who might not seek out feedback from their peers online.
"Those sorts of in-person interactions are things we'd been focusing on solving, and we've found a lot of success in just getting creative with the technology," says May, who points to tools like the annotation pen on Zoom chats, which, when combined with screen captures, can allow many people to sketch on top of one another, allowing the student to go back later and review the images in a Google file. "Buddy systems" and designated student groups are baked directly into the new studio model to help build natural support systems and ensure that no students fall through the cracks.
"What's been interesting is that so much of what we did traditionally in studio was on the fly," says Assistant Clinical Professor of Architecture Brittany Williams. "We would steer discussions and activities based on which way the wind was blowing that day. We realized that in a virtual environment, that was not going to work."
Ironically, what has proven most successful for students is a radical departure from the way much of studio operates. The virtual iteration is highly scheduled and organized, a mesh of asynchronous and synchronous interactions predictably scheduled at the same time each week. May compares it to different "recipes" that faculty can pick and choose from, each offering a different experience. Most faculty, like Assistant Professor Jana VanderGoot, have kept technology streamlined, using mainstays like Zoom and Google Drive.
"My studio has been using Zoom in fairly simple ways and that has been best," says VanderGoot, whose spring studio is conceptualizing a welcome center for a proposed linear park in Georgetown. VanderGoot's students post their progress online and discuss major themes in group Zoom meetings. Students then break out into pairs for more in-depth desk critiques and record their takeaways, which are automatically emailed to the entire class.
"The schedule is rigid by design, so that students know exactly what is expected of them," says Williams. "And actually, the students have really responded to it. We've gotten great feedback."
With many students juggling additional responsibilities during the pandemic, asynchronous tools have been employed heavily to provide them maximum flexibility. A Google Drive document might act as a running conversation, where students and instructors can post questions and add comments; Google Slides can simulate student pin-ups. Some faculty are using their cameras as articulating lamps so they can talk through a sketch, which can be shared live on Zoom or later as a recording.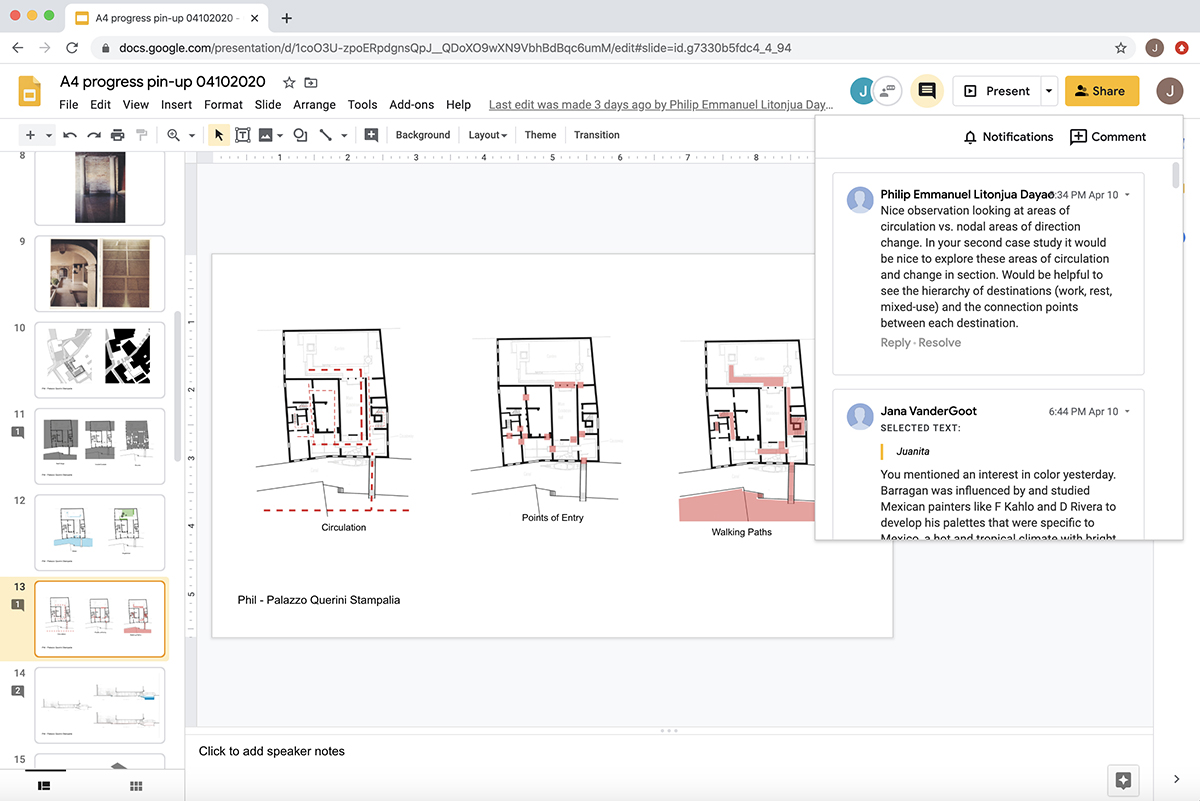 Williams notes that having everything documented is an unexpected benefit of their new virtual world; conversations happening in the Google Doc, for instance, are available for everyone's benefit, where in studio they may have only been overheard by one or two students. Lectures taking place for one studio can now be shared across the entire program. Professor Ronit Eisenbach, whose spring studio involves tapping into feedback from stakeholders in the Maryland community of Riverdale, is finding it easier for her students to crowdsource ideas and perspectives through online platforms than through traditional community outreach. Virtual platforms could also open new doors for guest critics and thesis judges.
"One of the benefits of having all of this happen online is that we can now potentially tap alums and other people who live all over the world to participate in final presentations," says Williams. "That's something we've always struggled with because of the distance."
As the program makes its virtual space, administrators are keeping a close eye on how the experience can inform the curriculum of the future, where a mesh of in-person and virtual learning—considered a blended learning environment—could offer more flexible options for students. According to Kelly, the benefits of assembling together is a key part of making great architects.
"The thing that has been on everyone's mind is the social dimension of teaching and learning," says Kelly. "The time we spend with our peers in and out of the studio discussing the project, interpreting the professor's comments, critiquing each other and sharing techniques is where the real learning takes place. Although our colleagues are trying to simulate these often-spontaneous interactions, nothing beats being in the same place at the same time. When we return to the Architecture Building, perhaps we will have a renewed sense of community."
Travel Agent: Preservation Faculty Leverage Tech to Tour Historic Structures
The highlights of HISP 670 happen far from College Park: the real fun comes when students stroll the aisles of the Old House of Delegates Chamber in Annapolis, or run a hand across the rostral columns on the plaza of Union Station. "Conservation of Historic Places," taught by adjunct professor David Overholt, introduces students to conservation methods, materials and techniques primarily through projects and practice in the field, using the region's rich historic environment as its classroom. So, when COVID-19 struck, Overholt feared that the several field trips he had planned for his students this semester would be scrapped.
"I felt terrible because this class is best conducted in the field," says Overholt, who is a senior project manager for the Christman Company. "They learn more when they can touch the plaster, when they can look at a restoration up close."
Overholt reasoned that if he couldn't bring his students to these sites, he would bring the sites to them. Within the first week of migrating online, he arranged a private audience with Lincoln Cottage's Senior Preservationist Jeff Larry and Director of Development Jason Molihan, who virtually walked students through the site, later leading a discussion on grant writing and conservation projects. This week, students witnessed the process of making ornamental plaster molding at world-renowned Hayles & Howe along with a private virtual tour of the company's Baltimore shop. Overholt is currently planning virtual trips to Annapolis and Washington's Capitol Hill where his firm has undertaken several diverse projects, from the cast iron restoration of the U.S. Capitol Dome skirt to the intricate disassembly of Alexander Calder's sculpture, "The Mountains and the Clouds," in the Hart Senate Office Building. He will continue to tap into the experts and craftspeople at the helm of these projects, who can share their knowledge and vantage points.
"It is so great for the students to hear from these folks out in the field working," says Overholt. "Giving them this opportunity, even if it's virtually, can help them see the depth of career options and better prepare them for the profession.
Sky's the Limit: MAPP's Cloud-based Computer Lab Gives Unlimited Space to Create
Designing a rich, detailed rendering of a mixed-use urban development or an in-depth story map for West Baltimore requires more than just a lot of time—it requires a substantial amount of RAM. Prior to the pandemic, students accessed the school's two computer labs for much of this work, where they could employ a myriad of design software to create amazing designs without crashing their personal laptops. But with MAPP students now scattered to the far reaches of the country, a quick trip to the lab is not an option. Now, a new "virtual" desktop solution brings nearly a dozen applications—from ArcGIS and Lumion to Sketchup and Rhinoceros—directly to students' fingertips without putting a dent in their computer storage. Created in collaboration with the university's Division of IT, the new virtual lab was developed by MAPP's Technology Services Center (TSC) to leverage the cloud-based computing platform Microsoft Azure, making the professional design software, file storage and server-grade speed that students used daily at the school—accessible from virtually anywhere.
"The lab was implemented so students did not have to spend extra out-of-pocket money on software licenses during this unfortunate time," says MAPP's Director of Information Technology Fabian Gomez.
The idea for a virtual lab is not a new one; TSC and MAPP administrators had been investigating a virtual solution as a way to offer more flexible and equitable access to cost-prohibitive software. With the pandemic speeding up their timeline, it now poises the school for more dynamic learning opportunities.
"This solution provides our students access to all of the software currently available in our labs and the processing speed they need to work," says Dean Donald Linebaugh. "Freeing up this technology, not to mention the space in our building where it's housed, opens up a lot of possibilities for the future."
Program / Center Affiliation