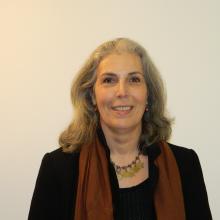 Isabelle Gournay
Associate Professor Emerita
---
Biography
A native of France and a resident of Historic Greenbelt,  Isabelle Gournay received a professional degree in architecture from the Ecole Nationale Supérieure des Beaux-Arts and a doctorate in art history from Yale University. She co-edited Paris on the Potomac. The French Influence on the Architecture and Art of Washington, D.C. Ohio University Press, 2007 and authored The New Trocadéro (Pierre Mardaga - Institut Français d'Architecture, 1985) and the A.I.A. Guide to the Architecture of Atlanta (University of Georgia Press, 1992).  On behalf of the Canadian Center for Architecture, she guest curated the exhibition Ernest Cormier and the Université de Montréal (1990) and Montréal Metropolis 1880-1930 (with France Vanlaethem, 1998) and edited their companion publications. She was the lead researcher (with Professor Mary Corbin Sies, American Studies) for a study of the Modern Movement in Maryland sponsored by the Maryland Historical Trust. With the help of graduate students in Historic Preservation, Profs. Sies and Gournay have authored many National Register nominations and helped save modernist landmarks from demolition, including the Lustine automobile showroom in Hyattsville.
Dr. Gournay co-edited Iconic Planned Communities and the Challenge of Change (University of Pennsylvania Press, 2019), which presents twenty-three case studies located in six continents. Beginning with Robert Owen's industrial village in Scotland and concluding with Robert Davis's neotraditional resort haven in Florida, this reference book documents the effort to translate optimal design into sustaining a common life that works for changing circumstances and for new generations of residents. 
Many of  Dr. Gournay's publications explore connections between urbanism, architecture and housing in France and the United States, such as the impact of the U.S. home builder Levitt around Paris. Her current research focuses on the phenomenon of the "Beaux-Arts architect" in North America: US and Canadian citizens having in studied in Paris and Frenchmen hired by architecture schools on the strength of their record at the Ecole des Beaux-Arts. For instance she recently published "The Legacy of the Ecole des Beaux-Arts in the Formation of North American Deco: Academic and Social Tenets and their interpretations" in the Routledge Companion to Art Deco.
Education
Architecte DPLG
Ecole Nationale Supérieure des Beaux-Arts, Paris
1980
Certificate in Museum Training Program
Ecole du Louvre, Paris
1980