When a community faces change, it can be hard to see what the future holds. But, what if you could offer a prediction by quickly transforming an empty parking lot into a safe space to play, or by claiming a street corner for a pop-up community kitchen that sources locally grown vegetables? What if a roving internet café offered a prelude to a permanent neighborhood spot?
Can experiencing what's possible spark the conversations that will shape a community's future? 
Those are some of the questions that inspired a new student- and community-driven project led by Professor of Architecture Ronit Eisenbach and Neighborhood Design Center program manager Allie O'Neill: souped-up vans that travel about and become instant gathering spaces, delivering critical resources and connection.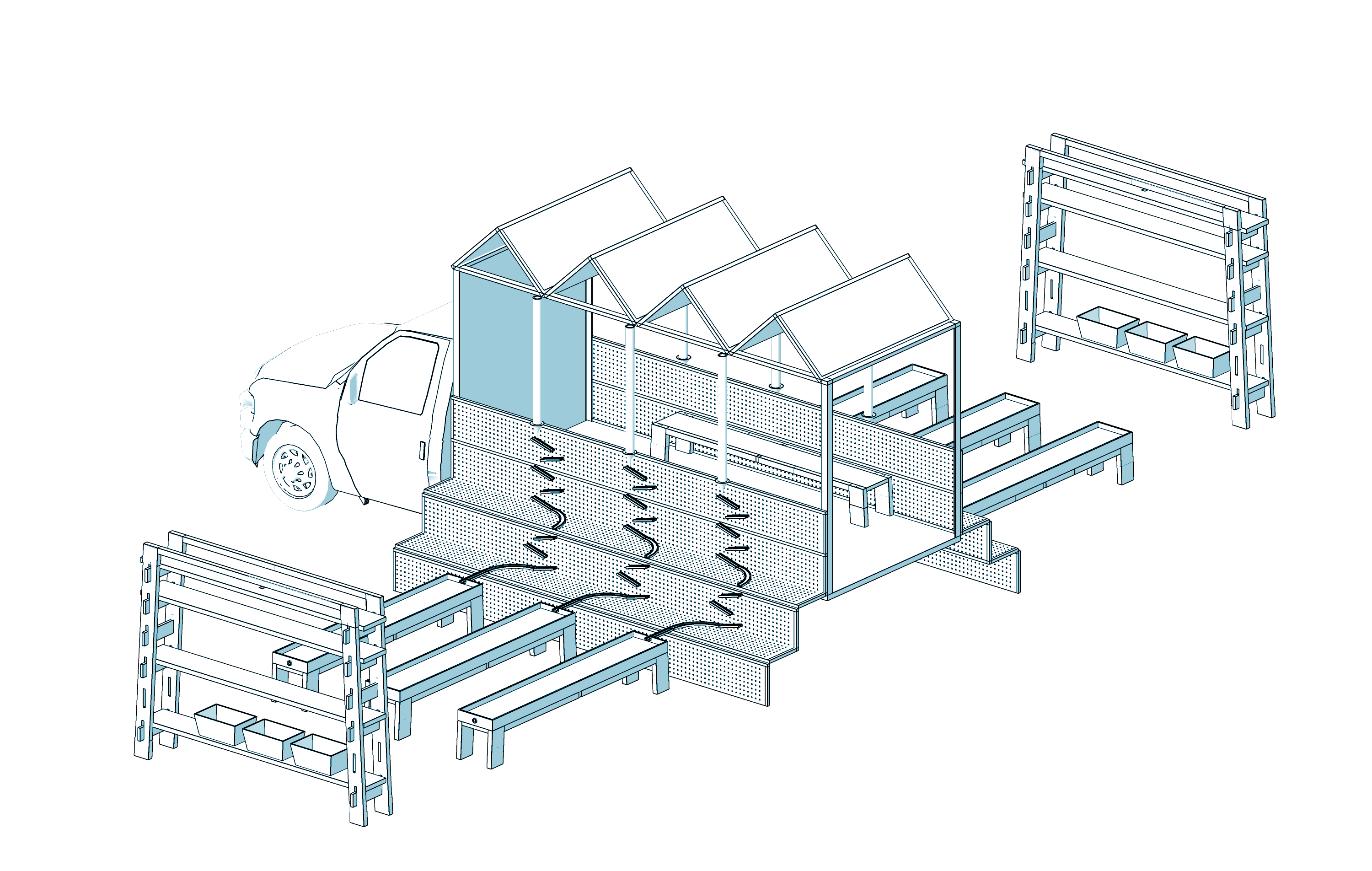 Called Mobile Resource Hubs, the concept emerged from Eisenbach's architecture design studio, "Making Place," and was inspired by a larger effort to engage and support the culturally rich communities nestled along the future tracks of Maryland's light-rail Purple Line. Students were challenged to devise temporary installations that celebrate a community's spirit, while inspiring conversations around future change. The studio is a contribution to the Thriving Communities effort outlined by the Purple Line Corridor Coalition, which is housed at UMD'S National Center for Smart Growth.
"When a major project comes to a community, it presents a lot of challenges and uncertainty, but also opportunities that, frankly, can be overwhelming," said Eisenbach, who is also director of the National Center for Smart Growth's Creative Placemaking Collaborative. "Placemaking through temporary installations and programming can help anchor a community by highlighting what it has to offer and test out ideas, setting the stage for long-term transformations."
After exploring ideas for six stops along the Purple Line, students teamed up with community leaders, organizations and designers to create a vision for Greater Riverdale, an enclave just minutes from campus. The Mobile Resource Hubs were one response to goals captured in the Greater Riverdale Action Plan led by the Neighborhood Design Center and the Central Kenilworth Avenue Revitalization (CKAR) CDC, part of a place-based initiative with Kaiser Permanente. After-school programming, access to healthy food, safety and walkability, internet access and civic space were all needs identified by the community as critical for a healthier and more stable future. 
"My main goal was to 'make the community important,'" said architecture major Junior Guadalupe Terrazas Dominguez. "I said this in all my presentations because I wanted to emphasize the difference between making a community "feel" important and actually making them important. It is about making a community's assets grow in value by enhancing their strengths and working with their weaknesses. I come from minority communities so I think it is important to celebrate our diverse cultures." 
A Kaiser Permanente Health Van was already available to provide services to residents; what was not, was adequate seating for waiting patients outside the van. O'Neill suggested the students start there. 
The students quickly devised an idea for flat-pack furniture. A kit of parts that can quickly notch together without screws or nails to create a variety of configurations; it could be set up in minutes. "From there, we were thinking, where else can this idea lead us?" said Thomas Michael Mattson, a senior who oversaw the modular furniture for the project. After learning that Greater Riverdale had no community center for recreation, Wi-Fi or community events, the team came up with an idea: why not bring its function to the people? 

The result is four themed Mobile Resource Hubs that unfold and modularize to offer an internet cafe, a food pantry, a library and a recreation space. The food hub provides healthy foods as well as an educational component for growing and cooking. The play hub transforms into climbing walls, benches and monkey bars. The library, a bookmobile on steroids, has all the trappings of an open-air book nook with programming for kids and seniors. The internet café offers a place to socialize or study and free Wi-Fi. All of the vans include gathering spaces to activate the location of the day, outfitted with the students' furniture. 
"It's not a permanent solution, but a temporary pathway to larger change and, hopefully a spark to ignite community leaders to push for these resources," said senior Alexandra Hall. "Especially during the pandemic, we've seen how hard it is to access things, like healthy food." 
Led by Eisenbach, the paired public impact design studio and creative placemaking seminar are recent additions to undergraduate course offerings; last spring, students devised plans for a community center in Haiti in collaboration with the UMD student group Roots Home and Abroad. The elective studio brings students in the BS and BA programs together to collaborate with professionals like the Neighborhood Design Center and public artist Nicole Chochrek to create positive impact on the ground.
For undergraduates like Hall and Mattson, the design studio was the first time they had worked on a community-fueled project, requiring them to work collaboratively and with other stakeholders to develop something that reflected community feedback, mirroring precisely what they will experience in the profession.
"The collaborative aspect really taught me the value of group work," said Mattson. 
In addition to the mobile hubs, the studio helped advance two other worthy ideas for Greater Riverdale. Sarvis Empowerment Café, a crowd-sourced community dining spot that doubles as a space for community events and exhibitions, is currently under construction; its health and wellness programming is being created in collaboration with Professor Stephen B. Thomas and his Human Centered Design students at the School of Public Health. A digital collection of renderings will help the community envision the impact of long-term neighborhood changes, such as new bike lanes, walkability and permanent gathering spaces. The Neighborhood Design Center and CKAR are planning to use the digital material to advance public conversations about the Community Action Plan during the pandemic, even if they can't be face-to-face.  
Prince George's County Council member Danielle Glaros, who sat in on a virtual presentation in early May, saw immediate opportunities to apply the students' ideas, particularly the modular furniture. 
"We've been doing a lot of work in Riverdale during the pandemic," Glaros said. "We're delivering thousands of meals to families but have been battling the elements the past month and a half. So, these opportunities for shade and shelter and seating are really essential." 
"This experience was really eye opening because there's so much more to good design than just creating a beautiful, whimsical structure," said Hall. "It needs to work for people, and understanding the people's needs, goals and opportunities is what we're really working towards and how we should be designing."
Student Studio Participants, Making Place:
Eleanor Cromwell, BS '20
Ryan Dunlap, BS '20
Alexandra Hall, BS '20
Ruiyao Jiang, BS '20
Ruying Lu, BS '20
Thomas (Michael) Mattson, BS '20
Ryan Muir, BS '20
Oreoluwa Olayinka, BA'21
Ruben Rosario, BA '21
Jeremy Schachter, BA '20
Guadalupe Terrazas-Dominguez, BA '21
Gabriel Versiani Mafra, BS '20
Amir Wertheimer, BS '20
Program / Center Affiliation