UMD's Sustainable Maryland Program is creating a greener, more resilient state, with over half of all municipalities participating
---
Can protecting the Chesapeake Bay be as simple as installing a rain barrel? Residents in Thurmont, Maryland, seem to think so. When the town recently offered a virtual rain barrel workshop, nearly 50 people signed up to talk stormwater over Zoom.
"The ultimate goal is to protect the bay," said Jim Humerick, Thurmont's chief administrative officer, who helped secure discounted rain barrels for the first 25 residents who signed up for the virtual session with a grant from the Chesapeake Bay Foundation. "Every bit helps, and that includes putting a rain barrel on your house."
Thurmont is one of 79 municipalities across the state enrolled in Sustainable Maryland (SM), a statewide "greening" program from the University of Maryland's Environmental Finance Center (EFC) that provides municipalities with customized roadmaps to become more sustainable, vibrant and healthy. Since 2011, the program has mobilized communities both urban and rural, including the top 10 biggest cities in Maryland and 25 of the 27 municipalities in Prince George's County, connecting them with funding opportunities, training, expertise and a tight-knit network of peer municipalities to draw from. With the addition of Upper Marlboro this spring, over 50% of Maryland municipalities now participate in Sustainable Maryland, which is offered at no cost; the program is self-funded through private and government grants.
SM is akin to "choose your own sustainability adventure:" Communities pick from a menu of "greening" actions to address their specific sustainability goals, from increasing community walkability and local business support to reducing stormwater runoff and saving energy. SM Program Manager Mike Hunninghake works closely with each municipality's Green Team to weigh community assets and priorities with available resources to create an action plan. Each action is assigned a point value, depending on the level of investment and impact, which helps local governments pinpoint where to best apply available resources. Ocean City rolled out a bicycle light program to increase bike safety at night. Capitol Heights established a low-cost community garden and launched a series of healthy food cooking classes.
 "Enrolling in Sustainable Maryland was really a no-brainer," says Humerick, who first learned of the program during a Frederick County Green Team summit. "We were already working on sustainability projects in Thurmont, but the program gave us the resources and support to do things a lot quicker than if we were stumbling through the process on our own."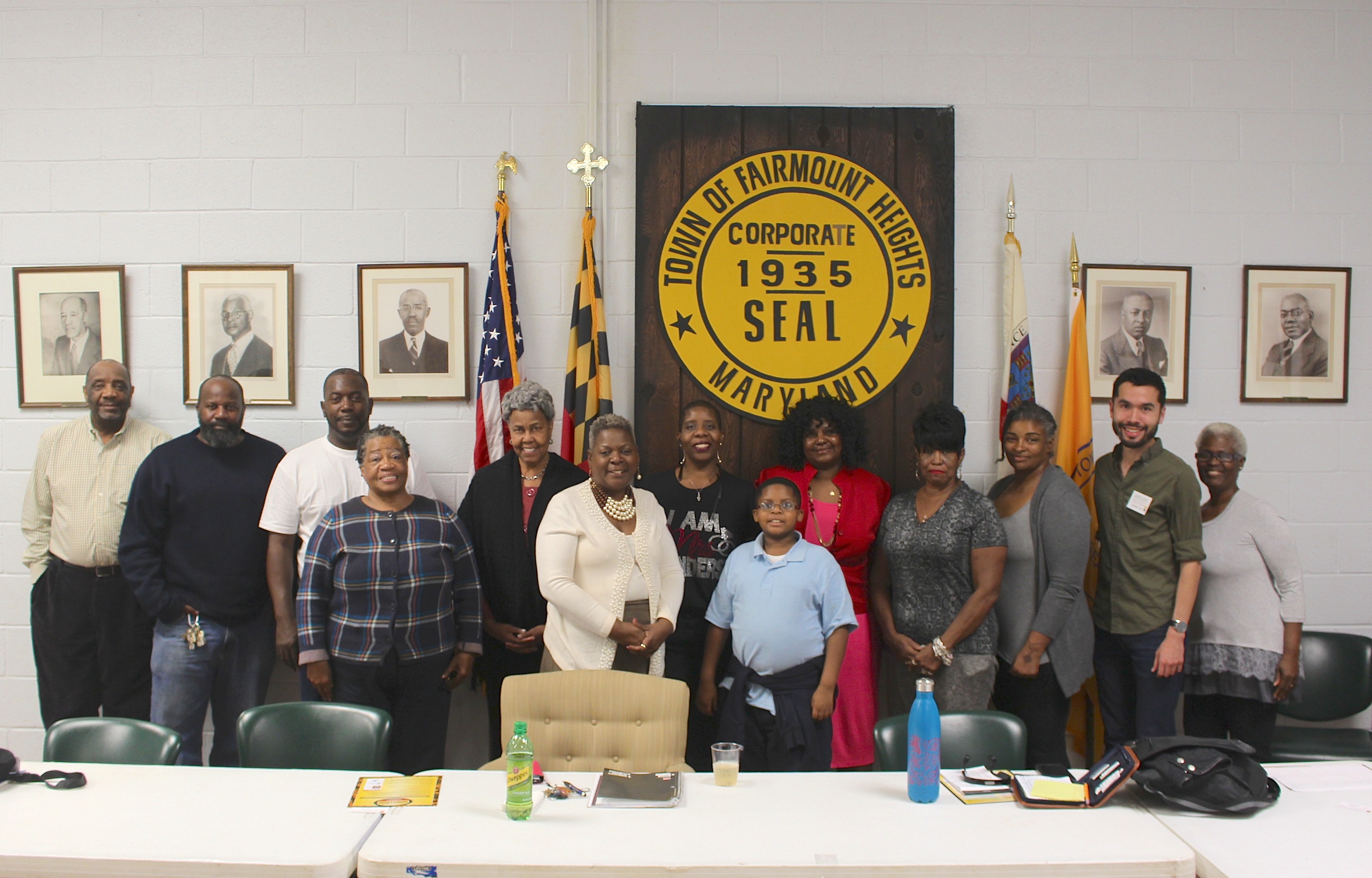 Since enrolling in SM in 2015, Thurmont has racked up a list of improvements—community gardens, a rain barrel program, storm drain stenciling, stream cleanups, a farmer's market and an annual Green Fest—all largely orchestrated by a cadre of volunteers. With the help of grant money, the town has converted 40% of its streetlights in town to energy-efficient LEDs, reducing consumption 70%, and installed similar energy-efficient lighting on its historic trolley trail.
Hunninghake, who has been with the program since 2013, has become adept at spotting a community's assets—a historic downtown or an underused park—and for devising ideas to create more vibrant quality of life. He thinks of himself as a Johnny Appleseed of sustainability, inspiring people to do new things and make their communities better places. A lot of that is through connecting participating municipalities with new ones, demonstrating SM's impact. SM has also organically created a peer-to-peer network that brings municipalities together in a variety of ways, such as program-sponsored leadership trainings and Green Team summits, where communities can share their successes and challenges to further their own sustainability efforts. A recycling flyer created by the city of Greenbelt has been shared and replicated by nearly a dozen peer municipalities. And when Greenbelt wanted to launch a community composting program, it turned to a neighbor, the city of College Park, which has been running a successful program for the past few years.
"The different SM municipalities really value what we learn from each other's experiences; that's the wonderful thing about this program," said Luisa Robles, Greenbelt's sustainability coordinator. College Park, Robles said, was able to walk Greenbelt through the operations and traffic flow of their city's drop-off site, as well as share outreach literature to help Greenbelt spread the word to residents. "We just had to Greenbelt-ify it."
SM also helps connect municipalities to grant opportunities, programs and government funding to further projects like stormwater management or energy conservation. Greenbelt reduced its electricity consumption by 15% after a grant from the Maryland Energy Administration allowed it to switch to LED lighting in city buildings and parking lots. Funding from Prince George's County's Department of the Environment has helped the SM program install free pet waste stations and provide outreach materials in 17 municipalities, eliminating over 30,000 pounds of pet waste from the Chesapeake Bay. A grant for the city of Hyattsville, identified by Hunninghake, funded the nation's first all-electric Chevy Bolt police cruiser.
"Becoming a Sustainable Maryland Certified community has meant that Salisbury now has a Green Team, our first full-time sustainability coordinator, our own sustainable business certification program and a robust stormwater management utility—all of which we might otherwise not have," said Salisbury Mayor Jacob Day '04. "Critically, it means that we have an objective ruler by which to measure the impact of our efforts to improve the river we swim in, the air our children breathe, the soil we grow our food in and the buildings our citizens study, shop, live and work in."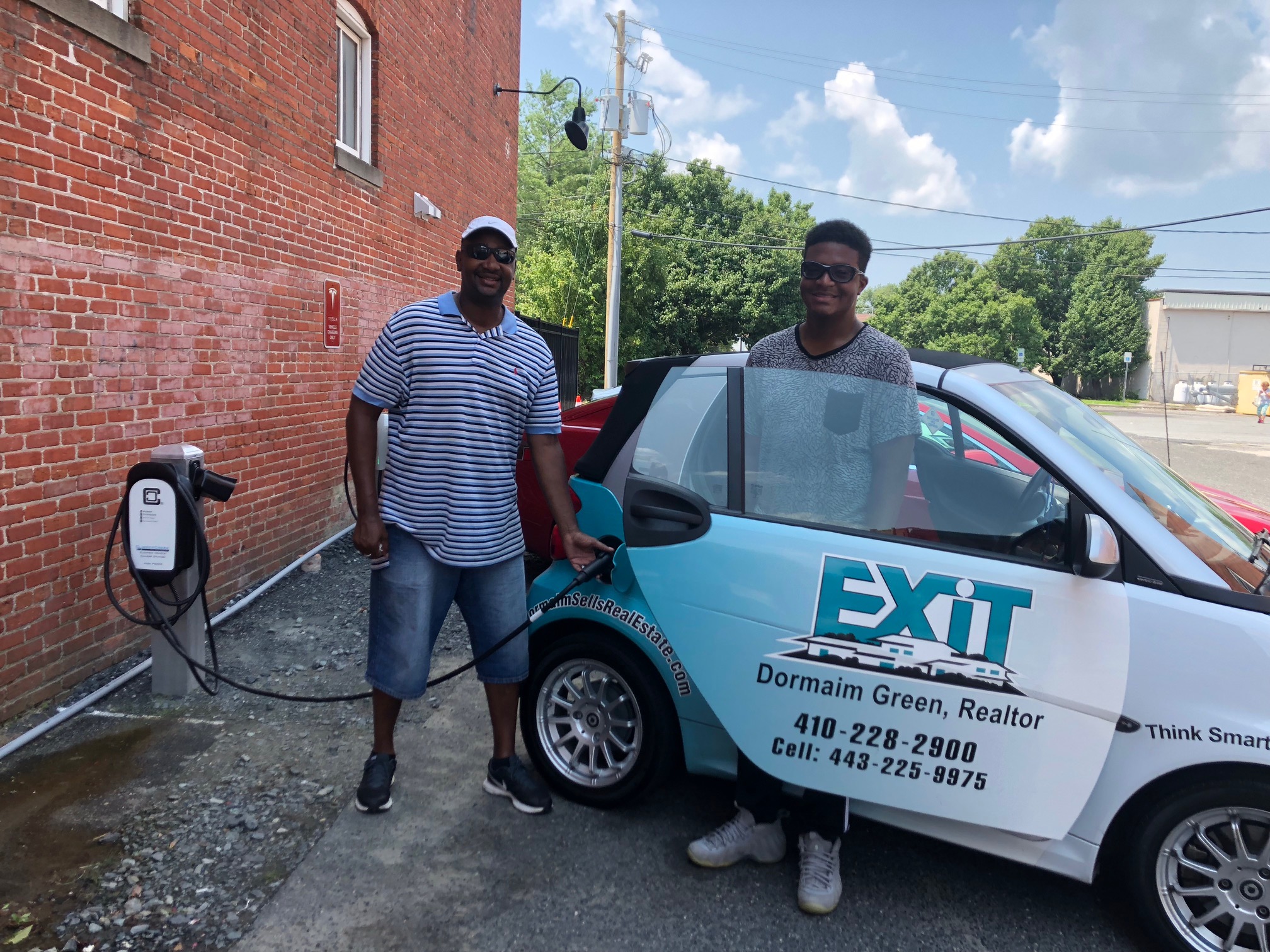 Municipalities tout the measurable impacts SM has created on their community's energy consumption, carbon footprint, water quality and bottom line. But equally important are the immeasurable ones.
"Our Green Team members get stopped on the street all the time," said Robles. "People notice. It feels like we're doing something good for our community and the environment, and that's really rewarding."
While the program previously worked solely with municipalities, SM is now branching out to homeowner associations in unincorporated areas. Hunninghake recently began conversations with three in Gaithersburg.
"Going forward, sustainability is going to have to be part of everything that communities do," he says. "With the challenges of climate change, scarcer resources and now, global pandemics, the importance of having a group of people representing the community and focusing on sustainably issues is going to be more important than ever before."
Sustainable Maryland by the Numbers:
22 of the 25 most populous cities, including Maryland's top 10 biggest cities, have been certified at least once.
25 out of 27 Prince George's County's municipalities are registered or certified with the SM program.
75% of Maryland towns with populations between 10,000 and 2,000 are registered or certified.
30,000 pounds of pet waste have been eliminated from the Chesapeake Bay.
Program / Center Affiliation
Research and Creative Practice Areas