According to Malcolm Gladwell, the path to mastery of any skill or subject is around 10,000 hours long. To find proof of Gladwell's theory, you wouldn't have to look much further than Willie Graham. A veteran architectural historian, Graham is considered an authority in restoration, reconstruction and building analysis, consulting on some of the nation's most important public and private historic sites, as well as projects across the the Caribbean and Great Britain. Graham has been integral in the evolution of professional standards in preservation fields, from building analysis to restoration craft, and his writings, sketch work and prolific photography have provided a blueprint for colonial building practice that might otherwise not exist.
Graham came to Maryland to study architecture, years before conversations of a historic preservation program would bear fruit. Yet his path seemed predestined. The summer after his freshman year, his friend and classmate, Bill Neudorfer, made a connection with the Historic American Building Survey (HABS), landing them both summer jobs working on historic buildings around the country. For Graham, that summer stint was the perfect convergence of architecture and a lifetime love of "old things." As summer moved to fall, Graham stayed on, editing and working on projects for HABS while juggling his classes. "That experience ended up being a really good fit for me," he said. "It gave me a better sense of what historic buildings were about. It was really-hands on and it gave me a real leg-up, both at finishing my studies and in my career. David Fogle used to joke that I was the school's first preservation student."
Opportunity knocked—or in Graham's case, rang—shortly after graduation, when the new director of architectural research at Colonial Williamsburg called HABS looking for someone with field experience. Graham happened to be the one to answer the phone. Graham arrived at Williamsburg at a transformative time, where restoration funding, fresh ideas and programming converged to develop what many consider the gold standard in preservation and restoration practice. "It was this whole new generation of people, many of us having just graduated from college," he said. "It was a great time and the results reverberated, I think in a lot of ways, across the profession. And it's what Colonial Williamsburg gave us, the ability to get our 10,000 hours or more in doing this kind of stuff."
Now, 40 years and hundreds of projects since that first summer internship, Graham and Neudorfer have reunited to work on the restoration of the James Brice House in Annapolis, a massive, multi-year project that might just be Graham's opus, where he can apply his breadth of knowledge, the talents of his colleagues and lessons learned from other projects to tell its story. Below, Graham discusses his career, recreating age-old building craft and setting the standard:
You took a fellowship with Colonial Williamsburg nearly right out of college and ended up staying for nearly four decades. What was that time like? I was hired to record agricultural buildings and outbuildings for this 18th-century house there; they were thinking about reconstructing the outbuildings and there was a good amount of money to do the research. Around that time, Colonial Williamsburg was reconstructing a blacksmith shop and a mental hospital. I asked to review the drawings of the blacksmith shop; it wasn't in my purview, I just wanted to see what they were doing. And I began to question some of the decisions they were making and I quickly got moved onto the design review committee. Then I helped out on the mental hospital and they finally gave me the position of the curator of architecture. From that point on I worked on every restoration or reconstruction in town for 37 years.  
It's fortunate, I'm one of a small group of people in this field who didn't go to grad school; and if I had, I probably would have missed this window at Colonial Williamsburg. There was a whole new generation who got there at the same time and the entire architectural research office stayed together for the next 25 years. So, it was sort of a transformative time for the architectural research office; but at the same time, Colonial Williamsburg was also rethinking the trades program—we kind of grew up together. It was during this time that we got a serious blacksmith, who has probably since trained almost every blacksmith out there today who specializes in historic work. Same with the carpentry staff and the joiners— it was a completely new standard of work. If I had gone on to grad school, I couldn't have been part of this program.
When you approach a project—like a reconstruction or a repair—how do you figure out how to do it in a way that honors how it was built in the first place? It's not like there is a manual from the 18th century on how to lay brick.  It's a very interesting question. There are very few of us that have been fortunate enough to be in a position where someone would pay us for an entire career to go out there and look at this kind of stuff. We've just been able to see more historic buildings related to these restorations and reconstructions that anyone else on the planet; to be able to understand the small pieces that add up to a bigger whole and having this mental reference of, say, having seen three dozen kitchens done this way. And then you layer on top of that what we were able to do at Colonial Williamsburg, which was to literally recreate these period trades—the carpenters, joiners and blacksmiths, plasterers and brickmakers. Early on, Colonial Williamsburg encouraged the research staff to not only help out with the trades but occasionally go out and do the hammering and the pit-sawing so we could recognize in the field the signs of how this stuff was done. Then when it comes time to replicate it, the nuances are not lost.  A lot of my field research has been greatly enhanced by having the opportunity to make a nail or throw the mud for a brick. 
One of the contributions that you've made in this field is how it is practiced—including standards in the analysis of paint and dendrochronology. How did these changes evolve and why are they important?  I came into this job without much formal education. My degree and my experience with the Historic American Building Survey definitely gave me a leg up, but I was around 23 years old at the time and we sort of had to learn this stuff on the fly. One aspect of the Colonial Williamsburg work ethic is they really were trying to build and restore for the ages. They had high standards that didn't necessary jive with what preservation standards were at the time. Increasingly as we worked on these projects, I saw a need to make sure we were doing things at the highest standard possible. But I was also, at the same time, interested in the standards for doing research. Colonial Williamsburg is really where paint analysis got started in the late 1920s, but it kind of languished. It was only after I got there that we reintroduced paint research. It was little more touchy-feely and less rigorous than you might expect and I quickly realized that the field of historic architectural research was really behind the other social sciences in terms of how scientifically we were approaching what we were doing.  I began to work with a broader range of paint analysts and demand more out of them. Ultimately, an international forum of paint analysts was formed. They invited me to give this keynote talk and I think what I had to offer them was a set of standards that as a client I could expect. Some things were pretty simple, such as taking fewer, smaller samples so there would be less damage to the fabric, while demanding more information from them. The paint analysts that I work with now have adopted most of what I'd been asking for at the time. But my talk has been used as a guide for students going through universities now and I think is increasingly the way to do that kind of stuff.
You've consulted on arguably some of the most notable historic sites—do you have a favorite? Are there any that surprised you? The coffeehouse reconstruction at Colonial Williamsburg was a really satisfying project. When we started doing reconstruction of buildings in the early 80s, we tried to roll into our design exactly what we knew about the building from archeology and documentary sources and then we'd flesh it out with what we had learned from fieldwork, but it wasn't really geographically specific. Colonial Williamsburg had sort of become this prim and proper place and we didn't feel like it adequately represented everyday life in 18th-century Virginia. So, we were trying to get the pendulum to swing back the other way.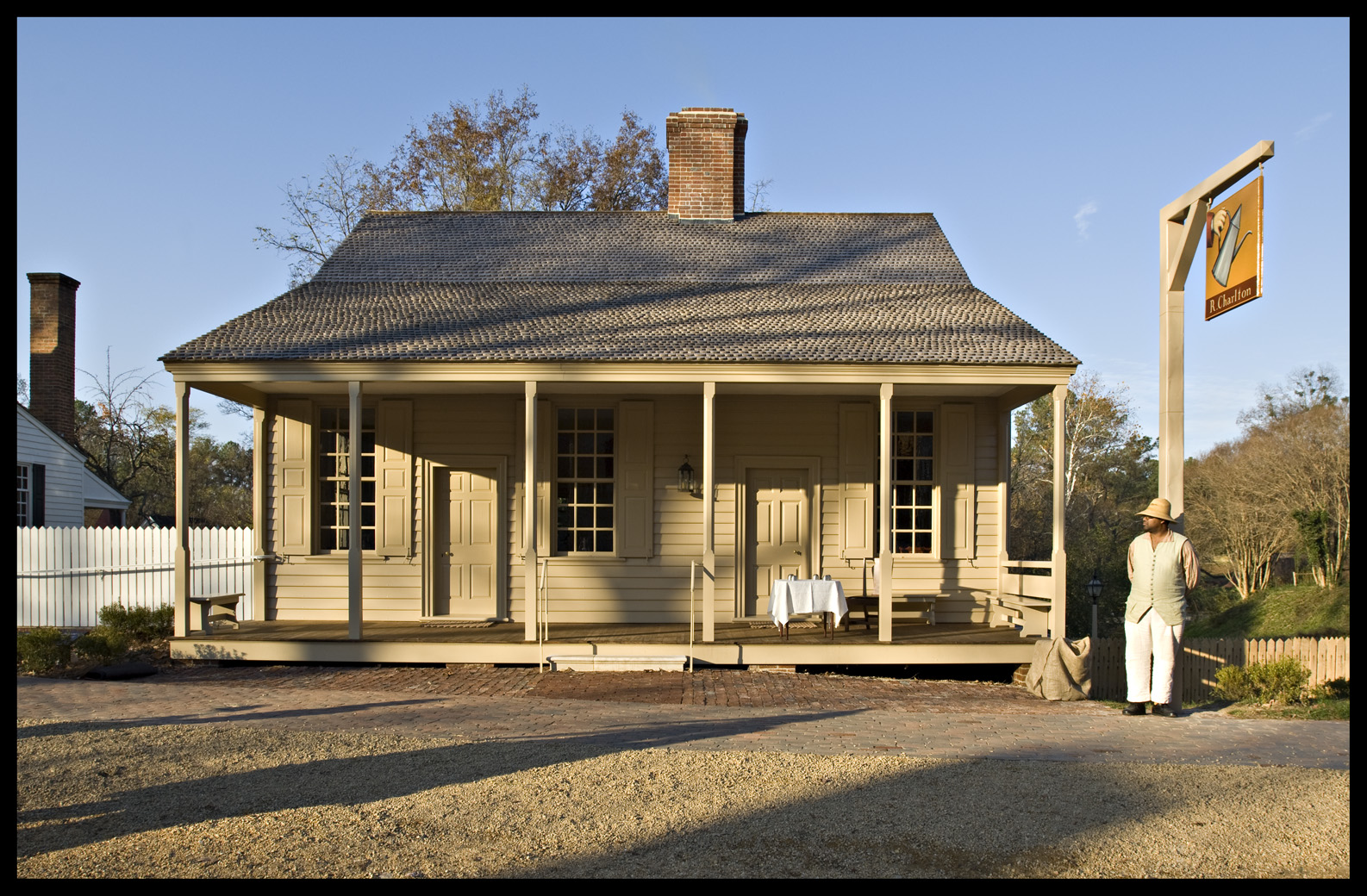 By the time we had done the coffeehouse, sometime in the 2000s, I think I had a more refined idea of how all this stuff came together to create a more believable construction. There had been a Victorian house that was built on the foundation of the original building and we discovered about 150 pieces from the coffeehouse had been cut up and reused in the house. My colleague and I took about a decade to record and plot every nail hole in each timber and determine when they were made—whether it was part of the original construction or in the construction of the Victorian house. There was a little bit of a foundation wall that survived, and I sort of pulled it all together like a jigsaw puzzle of pieces to create the frame and the form of the building and ultimately the plan and the finishes. At some point, someone had put cement parging on the inside portion of what little foundation was left. While the brick masons were removing it, they discovered underneath a little stub wall that came out to support the summer beams that I had already designed; as it turned out, our designed frame was within ¾ of inch from these stub walls.
What are you working on now? At the moment I'm working on three major restorations, but the Brice House in Annapolis is the perfect alignment of all that I've studied and learned. It's a big 18th-century house that the state of Maryland purchased in 2014. It's a $22-millon dollar, multi-year restoration. The house was restored by the international masonry institute in the 1980s but the quality of their work was not museum grade and we want to make this the restoration of our generation. We want to learn from organizations like Colonial Williamsburg, Mount Vernon and Montpelier; what they've done well and right and avoid mistakes they've made. I conducted an initial study of the building, how it's changed over time, a materials analysis, what period it should be restored to, and then we started looking for an architect. It turned out that Bill Neudorfer (B.ARCH '85), a classmate of mine from Maryland and a truly talented architect, happened to be just the right guy for the job. He's done some really extraordinary, high end work and that's what this is—we're making all the nails, all the hardware, we're handmaking the paints and you need to have someone as detail-oriented as Bill. He knows what questions to ask and can pull together all the professionals that need to be on the project.
It's easy to forget that buildings go through transformations during their lifetime; you could have a 18th century building that undergoes a major addition in the late 1800s, and that's still considered historic. How do you determine what period you're going to restore something to in the 21st century? Ultimately, I try and consider what is best for the building long term and what of importance will be lost if you decide to restore it to a particular period that cuts something else out. To me, the bottom line is, when you pick a period to restore it to, you've got to bring everything to that period. You can't keep the later stuff because you like it. I think its one thing that architecture school really taught me and its paid off throughout my career.
What's a tool you never leave the house without? A pocket full of pencils! Also, years ago I starting making these notebooks of interleafed graph and white paper; I always have one when I go to a site. I've got one for every state or country I've worked in and I keep sketches notes on every building that I study. So, when I'm working on a project I can use these books as a reference, for instance, if I see a chair rail that reminds me of one from another house I can go to my notebooks and pull it up.
Watch Graham and Neudorfer at work on the Brice House in this behind-the-scenes video.
Program / Center Affiliation
Research and Creative Practice Areas