Deadmalls.com is where the 20th century American shopping mecca goes to die. But as Eric Walter (MRED '10) will tell you, it's not necessarily their final resting place.
"The thing about malls is that typically they are very well-located real estate, but a concept that's no longer relevant," says Walter. As president of one of the East Coast's most successful development firms, Greenberg Gibbons, Walter envisions a second life for the Spencer Gifts and food courts of yesteryear: as walkable enclaves, sustainable community assets and destinations for work, shop, live and play.
It was an abandoned mall—notably, the Hunt Valley Towne Centre, north of Baltimore—that ultimately catapulted Walter's career in development. After graduating from Maryland with an international business and finance degree in '04, Walter's first professional experiences got his feet wet in real estate. But his hustle was no match against the 2008 recession. Walter found doors slamming shut.
"Firms would say, 'you don't know what you're doing, there's no way we're going to hire you," said Walter. "My future wife suggested I go back to grad school, but I really didn't want to get a general business degree. If I was going to go to graduate school, I was going to focus on my passion."
The Real Estate Development program at Maryland, Walter said, offered him a foot in the door. Within his first year back in College Park, a professor referred him to a job with the commercial real estate firm CBRE selling shopping centers. As a financial analyst, he knew the deals "inside and out," making him indispensable to the buyers in facilitating sales; In two years he had participated in over a billion dollars in shopping center sales. "I ended up just taking every hard project. And one of those projects was the Hunt Valley Towne Centre, which Greenberg Gibbons developed." A mall found on deadmalls.com, the redevelopment was a tremendous success financially and for the community, leading to another opportunity for the company to redevelop Annapolis Town Center. A few months later, Greenberg Gibbons approached Walter for a spot with their company as senior vice president. "My experience focused on selling shopping centers," he said. "I had never developed a shopping center or mixed-use project before, but after meeting with them for an hour, I knew this was exactly the opportunity I wanted when I chose to attend UMD's MRED program."
A decade later, Greenberg Gibbons has amassed a portfolio of high-profile, mixed-use and retail properties for Greenberg Gibbons, a full-service development and investment company that boasts a $1.5 billion property portfolio, with plans to double its size in the next five years. Below, Walter, who was named company president in July, talks about rethinking the shopping mall, where his company is headed and the project that kept him up at night during the pandemic: 
You grew up in Pennsylvania. What drew you to the University of Maryland? I have great parents and they toured me through nearly 30 different colleges. But Maryland was one of four I applied to and the one I loved the most. There were three things that I really wanted in a college experience: a proud legacy of college sports, a great business school and a really good dining hall. I love to eat and I thought Maryland had just great food. I would blow through my dining points allotment by October and friends on my hall would have to help me buy food.
Greenberg Gibbons has cornered the market on high-profile, live-work-play properties. How has that concept evolved over the years? What trends have you seen recently and what do you expect to be prioritized in the future? Our company has changed a lot in the past nine months. In the past we focused on developing these large-scale, mixed use projects like Hunt Valley or Waugh Chapel Towne Center, where we would retain ownership of the retail and the commercial office space and typically sell off the residential to best-in-class developers. The projects are just so huge and we felt that we didn't want to take all that additional risk on one site. Now what we're finding, and really, what we've always known, is that when you do vertically integrated mixed use with different capital partners—a different owner for the apartments than the retail on the ground floor underneath it—you have natural conflict. For example, the retail needs to exhaust through the residential, but you can't run it because they have an elevator shaft there, which limits your flexibility on the retail. You're constantly battling over whose cost is what and it creates a lot of conflicts. So, we made the decision to hire an apartment developer who is going to execute our mixed-use development and add residential capabilities. Bringing on this expertise will provide more opportunities for the company, broaden our toolkit for projects, and reduce risk for our partners and investors.
We also started two new businesses for the Company this year. With interest rates so low and land prices so high, along with rising construction costs and an oversupply of retail, it doesn't make economic sense to build retail shopping centers today. You can't afford to do it. So, at the beginning of this year we began raising third party private equity for the first time and raised $76 million to acquire over $200 million of retail shopping centers up and down the East Coast at half of what it would cost to build them today. We have also started a flex industrial company and have acquired two properties in Charlotte with more under contract in Raleigh, North Carolina.
I hadn't heard of deadmalls.com until this conversation; revamping old shopping centers and malls has become a notable part of Greenberg Gibbon's portfolio. What do you do with these old spaces? It varies. Some are just really good long-term cash flows but in other cases, it's a reinvestment; we are buying a property in Providence, Rhode Island that hasn't leased a space in nearly five years and there were bird's nests in the store signage. It just wasn't a high priority.  We see it as a really interesting opportunity to come in, repaint, repair the roofs, re-pave the parking lot, add some landscaping and then give it a jolt to add some new leasing and create a great amenity for that community, because it's been forgotten.
Re-thinking and redeveloping these forgotten places—in particular, shopping malls—is one of the major things that differentiates us from our peers. Hunt Valley was a mall, Annapolis Town Center was a mall. The communities are super supportive of the redevelopment of these spaces because it's a blight on that community. So, we don't get much opposition when we redevelop malls, we get a lot more support. And quite frankly, what we are trying to do is develop assets that are great for the communities.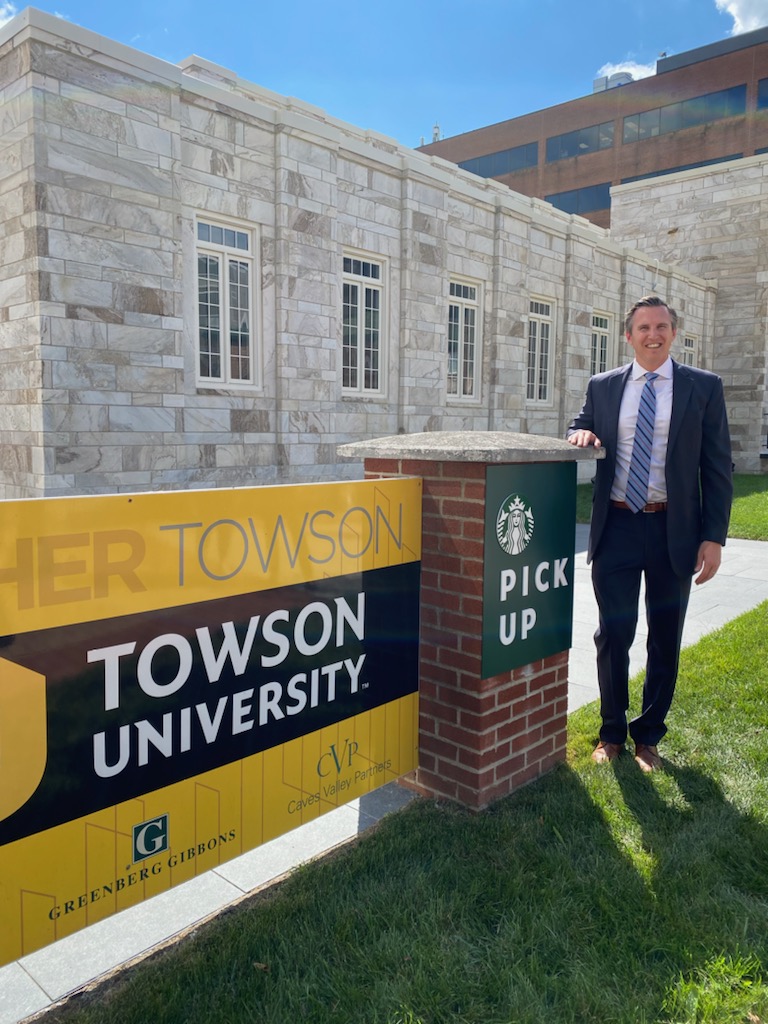 Towson Row is one of Greenberg Gibbon's most ambitious new mixed-use projects; but, as you mention, it hasn't been easy. Towson Row might be the best-case study of mixed-use development I could have expected when I started with Greenberg Gibbons. It's five acres in downtown Towson entitled for 980 student housing beds, 250 apartment units, 150,000 square feet of retail, 150,000 square feet of office, 220 hotel rooms and three parking garages on five acres. It's a public-private partnership. It also includes a historic armory building from the 1940s, a really cool building that we converted for Towson University's tech and business incubators and the entrepreneurship wing of their campus.
There are always bumps in a development project, but in this case, if it could happen, it happened here. This particular property is in a revitalization tax district which made us eligible for tax incentives over a 15-year period if we built high-performance buildings. We worked with the county, county council, county executive, planning departments and community organizations to reach consensus on a tax credit structure that was earned as we delivered on our commitment to develop each component of the project to create the economic drivers for the community. Unfortunately, when we closed on the property we had a signed contract to build a student housing tower and a month after we closed, the student housing developer terminated the contract; they said It was too expensive. In addition, Whole Foods terminated their lease and the hotel was unwilling to proceed. We had to redesign the whole site plan. We got the student housing developer back, we got the Whole Foods back to the site and we got hotel use back. The hotel use had their loan closed, their building permits in-hand, their flag and the contractor on site ready to start March 16, 2020—and COVID hit. And they said, "we're not doing it." So, we had to restructure the hotel and the deal and financially support to project with our partner. Ultimately, we delivered our second phase of multi-family/student housing in early September; with both buildings nearly 100% leased. The Whole Foods will open in Q1 of next year. We have a bunch of retail underneath; Towson University opened earlier this month. Starbucks opens next week and the hotel will open in 2023. It worked out, but it was wild getting there.
What is the project that you're working on right now that's getting you out of bed in the morning? Without a doubt, I'm working to get Towson Row to the finish line. But in my new role, I'm also much more involved in growing the company. We have a lofty goal to double the size of the company in the next five years and that's what I'm really focused on: helping to build an organization that has the appropriate structure and accountability, roles and expectations. I spend a lot of time thinking about that right now. Do we have the right people in the right places? What else do we need? What are we missing?
What is the best piece of advice you've ever received? It takes years to build a reputation, but a fraction of a second to blow it up. I think I'm fortunate to work at a company that really values ethics and morals and doing things the right way. I was raised understanding that nothing comes without hard work. I don't expect anything from anybody. I know I have to earn it.
What's a habit, practice, or strategy you learned in school that you still practice every day? I'll tell you without a doubt, it was the negotiations class I took at Maryland. I use it every day in business. What is the other person's best alternatives? I always think about where the other person is coming from and that came from that class.
What advice do you have for the next generation of real estate developers? Development is a challenging industry to get into. And Maryland's program did exactly what I hoped it would do: it helped me get in the door. So, I would say use the school and the network it offers and always treat every interaction with someone in the most positive way you can. Development is getting 10 to 20 different constituents to agree on a path forward. And so, you've got to treat everyone very positively—their opinions matter.
Program / Center Affiliation
Research and Creative Practice Areas