Student Dog Park Analysis Aims to Get Tails Wagging in Prince George's County
---
What makes a good dog park? Peek inside a canine's mind, and chances are it's a pretty short list: a place to run, butts to sniff, maybe the occasional squirrel.
With millions of dogs adopted in the U.S. during the pandemic, the demand for dog parks has made them a priority for local governments like Prince George's County, Maryland. But determining how many to add, and where to put them, first requires a better understanding of the turf—or in this case, AstroTurf.
This semester, staff from the Maryland-National Capital Park and Planning Commission (MN-CPPC) tapped University of Maryland graduate students to "master" what transforms a patch of grass into a community asset. The result is design criteria that offer best practices for building safe, engaging and social spots for the county's pups and their people.
"Dog parks are remarkable social magnets for a community," said Urban Planning Lecturer Louis Thomas, who led the project. "Friendships inevitably start when a dog jumps on someone who isn't their owner. I've read about people who have passed away and their family was shocked to see dozens of friends from the local dog park showing up to the funeral."
The project, conducted for Prince George's County through UMD's Partnership for Action Learning in Sustainability (PALS) program, was part of an urban planning course where students use literature, site visits, interviews and observations to approach a variety of urban planning issues. Students visited seven dog parks across the Washington, D.C., region to study how they impact community, environment, public health, transportation, environment, equity and gentrification. They then built a parks classification system categorized by suburban or urban setting followed by size; each park type suggested a list of features to consider and local examples to reference.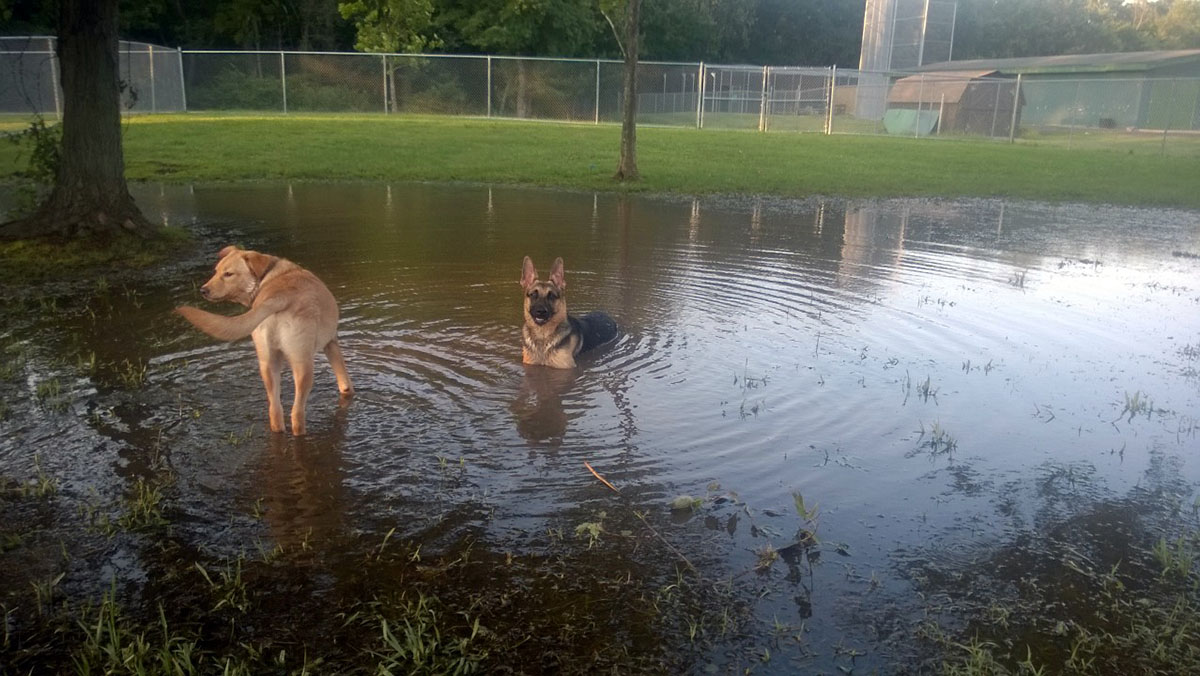 The students cataloged features like ground cover, fencing and play structures with dogs in mind, along with characteristics aligned with their two-legged counterparts, such as seating, shade, signage and onsite parking. During the COVID lockdown, with most opportunities for connection off-limits, the neighborhood dog park was still a place people could safely meet, said Kim Fisher, who manages the PALS program
"What the pandemic showed us is that people craved community, and I think the parks department recognizes the value of that social cohesion," she said.
Dog parks, said Thomas, offer a diverse microcosm that span economics, race, age and demographics; done correctly, they foster cohesive, invested communities. But residents-only restrictions, lack of parking and complicated signage can also undermine equity and accessibility. The students found that dog parks can often be perceived as gentrifiers, acting as a point of division between new and longtime residents.
"One aspect we wanted to explore was what factors contribute to a resident's perception that their neighborhood dog park includes them," said graduate student Dominique Gebru, who points to the participatory process of creating the Takoma Park Dog Park, which does not restrict usage or police its park. "What we found was that the way a dog park is introduced to the community—through input, participation and ownership—is imperative to communicating that is a resource for everyone."
A full report will be shared in a few weeks, and the county hopes to organize a meeting between the students and their landscape architecture and maintenance staff in the coming months. The typology, said Claire Worshtil, lead strategic park planner for MN-CPPC, will be an invaluable tool to evaluate requests, inform future site selections and improve the five county dog parks currently in use.
"You really need something to hang your hat on when making decisions, especially when there are a lot of different interests involved," she said. "To be able to point this this report and say, these students gathered all of this data and this is how we got to this decision, will be incredibly helpful."
---
What makes a paws-itively awesome dog park?
From multifunctional seating to parking proximity, here are five takeaways from Maryland students:
Benches are good, ledges are better: Conversation "cartography" conducted by the students showed high concentrations of socializing around benches; but research points to the superiority of ledges, which aren't separated like benches—and can also double as play structures for dogs.
There is no perfect ground covering: Artificial turf is gentle on paws and pretty, but it's pricey and can trap odors. Concrete is good for accessibility but floods easily. Students found that mulch was preferable for smaller dogs, while multilayer systems— such as the sand base, river rock, and gravel combination at the Shaw dog park in D.C.—while expensive, absorbs runoff and is less messy after rain.
Parking is key to accessibility: The students found that even in urban areas, people drive to dog parks. Parking removes accessibility barriers that can prevent people from using a dog park.
Early community involvement keeps tails wagging: Garnering a groundswell of community support and involvement in planning a local dog park can foster a level of social maintenance among users, said the students, because people tend to take care of places important to them. When a water fountain was turned off at one dog park during the winter, volunteers left jugs of water for all the dogs to share.
Signage helps create equity: Signage outlining rules are key for creating a general code of conduct—as long as it's not too many rules, which the students agreed is overwhelming. Wayfinding signage, signage in other languages and pictograms make people feel welcome, which the students say increases use and equity.
Program / Center Affiliation