An architect's greatest tool for pushing a design forward is an image that illustrates what it could be. A well-crafted drawing can communicate an idea, evoke a feeling or sow the seeds for action. Yet, the images that architecture students craft for a project's final presentation are often relegated to the end of the design process, when time is short, brains are fried and creativity is in shorter supply. Do they represent the project's potential? Do they capture the idea the designer is trying to communicate? And most importantly, do they inspire?
This summer, a new architecture course stripped away the programming, systems and technical aspects that make up the guts of a fully realized design scheme—and that monopolize the bulk of a designer's time and energy—to consider the project image and recast it as an evergreen tool. Developed by Architecture Lecturer and UMD alum Kenneth Filler (B.S. Architecture '14, M.ARCH '16), Design Drawing: Explorations in Mixed Media guides students through the digital and physical mediums, perspectives and drawing techniques that help develop a specific design idea and ultimately bring it to life. 
"There is real value in digging into why images are inheritably good," said Filler. "The decisions a designer makes when crafting an image have a direct impact on how the design is translated by the viewer. Oftentimes in studio, it's that midnight before the deadline that the concept is starting to be realized on paper."
The six-week course revolved around a singular objective: design an object that is architectural in nature and that provides some degree of enclosure and utility for the public good. From bridges and sculpture to memorials and places for respite, students explored different techniques for capturing and communicating their ideas. Physical models, digital drawings and manual sketches by hand helped students uncover new forms of representation and served as an effective method of design development.
"This was a class I didn't even know I needed," said rising B.S. Architecture senior Glenn De Los Santos. "I was already exploring different ways of representation in studio, but I always felt I was designing myself into a hole and didn't know where to go next. This class helped guide my mind."
Over the six weeks, Filler challenged students to play with form, combine mediums—sketches and digital drawings together, for instance—and employ minimalism, light, color, layering and perspective, such as centering the drawing through the eyes of a visitor. During the class pin-ups in the fourth week, architecture senior Jonna Delgiacco added a shadow-cast figure to her latest iteration of a mountainside hiking shelter to illustrate the design's size and grandeur and impart a sense of isolation. Santos used color and section to play up the angular features of his memorial to migrants, creating a feeling both evocative and daunting. A mix of dark and light worked to convey the duality of the migrant experience.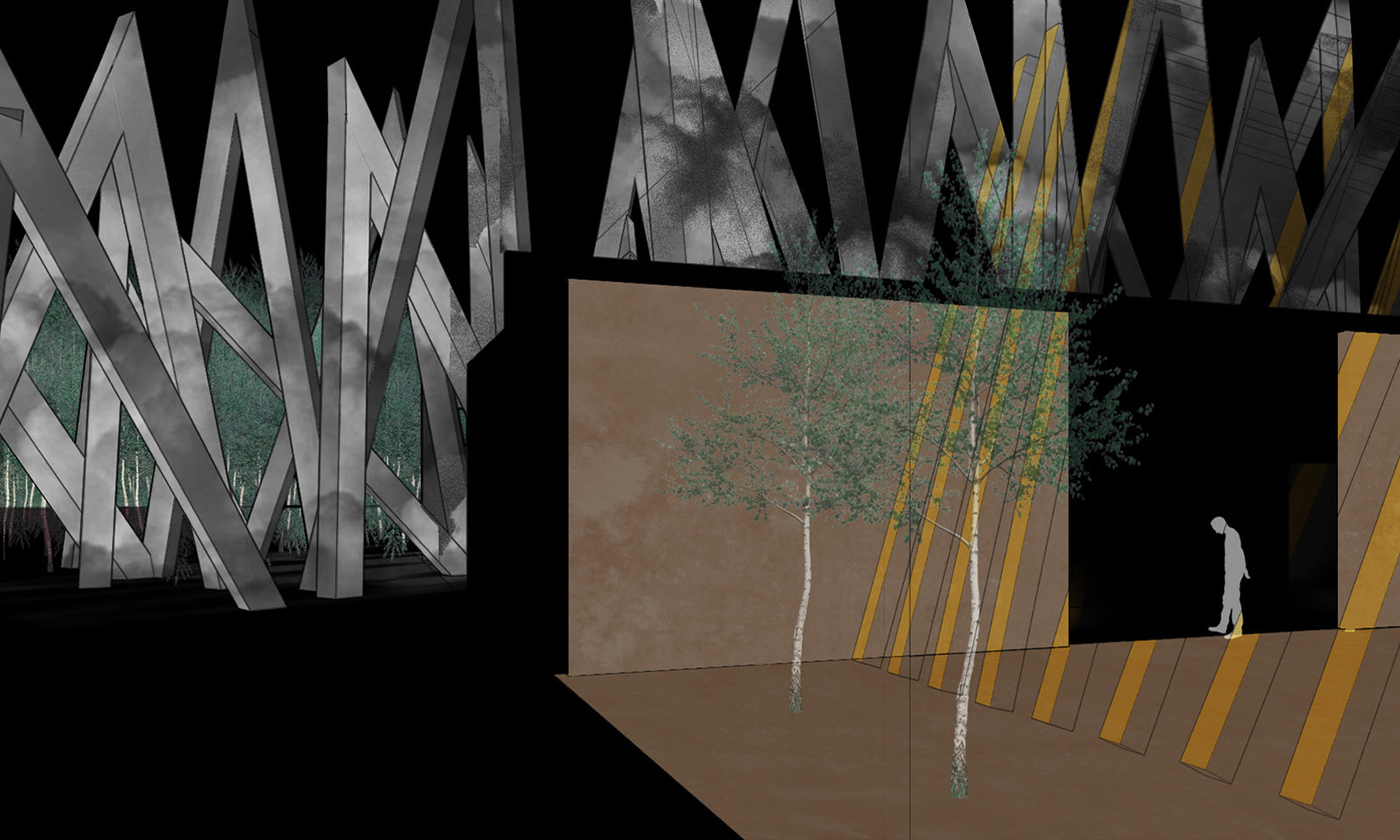 "If a studio is a macro examination of a project in full, this class zooms in on the micro aspect that connects directly to the person and gets those ideas flowing," said Santos. "It's like a handshake."
Techniques like changing the image's orientation, breaking the frame and returning to earlier iterations, Filler explains, can illuminate things students may not have considered, evolve their idea and help them form the story they want to tell. Different tools can offer different advantages, he explains—a quick sketch is useful for quickly sharing an idea, for instance—but also are the magic that takes place when they are combined. For B.S. Architecture senior Logan King, the course underscored the importance of the image as a critical communication tool and emphasized that drawings need to be able to speak for themselves. 
"During our studios, we focus on getting the drawings done because those are the final deliverables, but this class was more about developing drawing as a language itself," said King. "This course helped me offer more clarity with my drawings; it forced me to focus on one aspect of the bigger picture and, at the same time, show those ideas visually rather than explaining."
"It's less about what is being communicated, but how," Filler told his students. "Consider a potential audience for the image: what's the goal in the back of your mind? It should live somewhere between reality and abstraction, an image that sparks imagination and creates discussion, an impetus for a full design down the road. You don't want something to feel so resolved so that it doesn't have room to grow."
Filler's class is one of over 30 courses and mini studios being offered to students this summer through the Architecture Program, providing students the opportunity to explore topics they might not otherwise be able to fit into demanding degree schedules. Other courses include explorations in net zero design and Latin American architecture, an introduction to BIM and model making and the study of "missing middle" housing typologies.
"Ken Filler brings enthusiasm and tremendous expertise to his hybrid media class," says Professor Brian Kelly, Director of the Architecture Program. "Leadership in contemporary practice demands that students master a multitude of media. Filler's course builds skills in manual drawing, digital media, three-dimensional model-making and a variety of other representation techniques that help Maryland students stand out from the rest."   
Filler hopes that his course changed his students' perception of the final image: not as a deliverable completed at the project's end, but as an "exploration" that begins at its start, evolving and changing through the entire design process.
"The role of a designer is to be a visual communicator," said Filler. "We don't build the buildings; we convey the idea that sets the wheels in motion. I think some designers don't take time to pause to say, 'what the heck am I actually making?' It's a lesson for them to know they are in control over what they are communicating."
When asked how it will change how Santos works during his senior year—and as a professional in the future—he laughs and says that he's actually a little scared.
"This class really made me step outside of the box I was comfortable in. Now that I've opened that box, it's challenging me to rethink my entire process—but that's a good thing."
Program / Center Affiliation