A timber-screened, inventive urban housing concept and a glassy, open-aired space that nurtures the art of storytelling took top honors at the 2021 Baltimore AIA Future Architects Resources (FAR) Student Awards. "Pineyard Housing" by graduate student Fadi Alajati and "Story District Headquarters" by undergraduate students Asma Sofan were singled out by the jury for both style and substance, beating out submissions from area architecture programs to take first place in the graduate and undergraduate categories, respectively. An honorable mention for "Destination Baghdad" by architecture graduate student Adeola Okubadejo rounded out Maryland's wins; together, the students swept this year's student categories. 
"These projects are an excellent representation of the depth and breadth of universal design challenges we seek to tackle in studio, from placemaking to sustainable design," said Dean Dawn Jourdan of the School of Architecture, Planning and Preservation. "We are thrilled to have our students' hard work honored by the jury and AIA Baltimore alongside some of the region's most talented practitioners."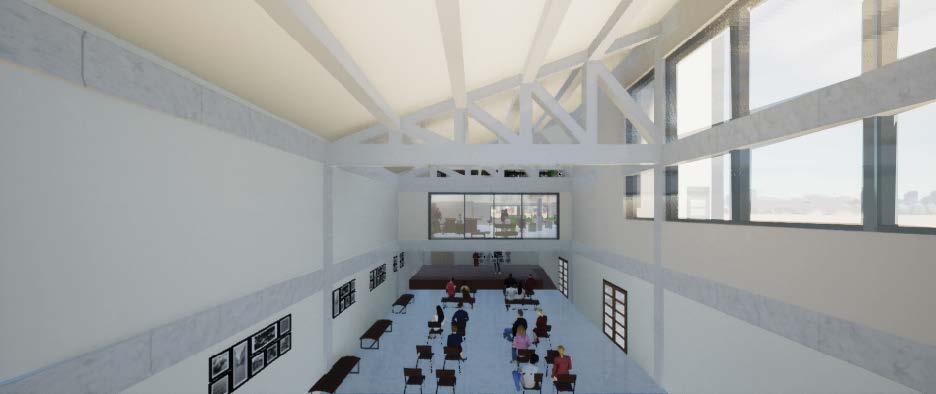 Created in 2013, the Future Architects Resources (FAR) Award is an annual scholarship open to students in their final year of graduate, undergraduate and community college programs in Maryland. Winning projects demonstrate innovation, social responsibility, environmental stewardship and critical thinking. The FAR awards are one of several design categories highlighted each year by AIA Baltimore at their annual design awards, which recognize design excellence by students and professionals in the Baltimore-Washington, D.C. region. Winners were honored at a socially distanced ceremony spread across three floors of One Charles Center in Baltimore on October 29.
Several alumni were also recognized this year for design excellence in residential, institutional, commercial and community-based projects. Esther Furman (B.S. Architecture '17) won a Design Award for Hord Coplan Macht's new School of Nursing for Johns Hopkins University. Adam MacDonald (B.S. Architecture '04, M.ARCH '08) won a Design Award Honorable Mention for Hord Coplan Macht's North Dorchester High School. Monica Pascatore (M.ARCH '02) and Lacey Anthony (B.S. Architecture 2010) were awarded a Good Design=Good Business Award for GWWO Architects' Cahill Fitness Center. Kevin Vandeman (M.ARCH/MRED '12) won a Residential Design Award for his project, Brighton House. Brian Grieb (B.S. Architecture '99, M.ARCH '01) and Alick Dearie (B.S. Architecture '99, M.ARCH '04) took the Residential Design Award Honorable Mention for GRiD Architects' project, Rocky Knob Sauna. Tamir Ezzat (B.S. Architecture '08, M.ARCH '13) won the Social Equity Award and the Good Design=Good Business Honorable Mention for E21 Boone. Noah Harburger (M.ARCH '04), Allison Wilson (B.S. Architecture '09 M.ARCH '11) and Kurtis Pung (B.S. Architecture '12) won the Exceptional Detail Award for Ayers Saint Gross' project Alfond Commons.
Each year, AIA Maryland's chapters recognize design excellence through their chapter design awards. Maryland students also swept the student categories at this year's Maryland AIA awards in September.
Program / Center Affiliation