An award-winning California designer and an internationally-renowned Madrid architect return to their Maryland roots this year as the University of Maryland Architecture Program's 2021-22 Kea Professors. Patricia Rhee, FAIA and Adam Bresnick (B.S. Architecture '88) bring their unique perspectives on design, programming, preservation and making place through graduate level studios this year, working alongside MAPP architecture faculty and students in ARCH 600 and ARCH 601.
"The Kea Professorship connects our students to the experience, innovations and solutions emerging in today's practice," said Architecture Program Director Brian Kelly. "Patricia and Adam have established themselves as leaders in the design profession, and it's a thrill to have them give so generously to our students as in-residence designers."
Patricia Rhee's diverse design portfolio—from the Culver City, California, mixed-use development Culver Steps, to GSA's John M. Roll Federal Courthouse in Arizona—adeptly captures both people and place through vibrant transit-oriented development and valuable public assets. A partner at Ehrlich Yanai Rhee Chaney Architects, she earned a Master of Architecture from Harvard's Graduate School of Design and a bachelor's degree from the University of Pennsylvania. She is a founding co-chair of the AIA Los Angeles Women in Architecture Committee, building a strong community of women practitioners through networking and mentorship.
A Maryland native, Rhee's design for Culver City's Stoneview Nature Center caught the eye of MAPP clinical professors Julie Gabrielli and Amy Gardner several years ago; to the surprise of both Gabrielli and Gardner, a request for detailed drawings to use for their class quickly escalated into Rhee coming to Maryland personally to chat with students and share her work.
"It was sort of amazing how it all happened," recalls Gabrielli. "And she talked about the project in such a perfect way.  It was a design build, it had a really tight budget and it was a municipal client. And she proved that you can do really nice, principled work under those constraints—and that's very similar to what we're doing this semester."
As part of ARCH 600, Gabrielli, Gardner and Rhee are working with students and to create new design plans for the Pony Express, a high-traffic area of Maryland's Assateague Island that includes a gift shop, showers and beach facilities, for the Maryland Department of Natural Resources. Rhee has made several cross-continental treks from California to introduce students to innovative building techniques, and translate poetry to practical.
"We learned a lot from Patti Rhee during multiple workshops and post-workshop critiques," added architecture graduate student Jihee Lee, who partnered with graduate student Samantha Jamero for the Assateague project. "We struggled with figuring out the way to reflect our ideas on the actual site with consideration of possible weather conditions and environmental factors. Patti suggested multiple options that could be implied in our design process."
"Jihee and I had a lot of big bold ideas which would probably cost too much and feel too extravagant for the site," added Jamero. "She gave us suggestions on how to realistically carry out these ideas while maintaining the integrity of the concepts, including the wood-burning technique called "shou sugi ban" which is the process of burning wood to help make it weatherproofed. We were so fascinated by the process that we found a way to integrate it into the design of the facade." 
In the spring, ARCH alum Adam Bresnick will go on hiatus from his thriving practice in Madrid, Spain, to return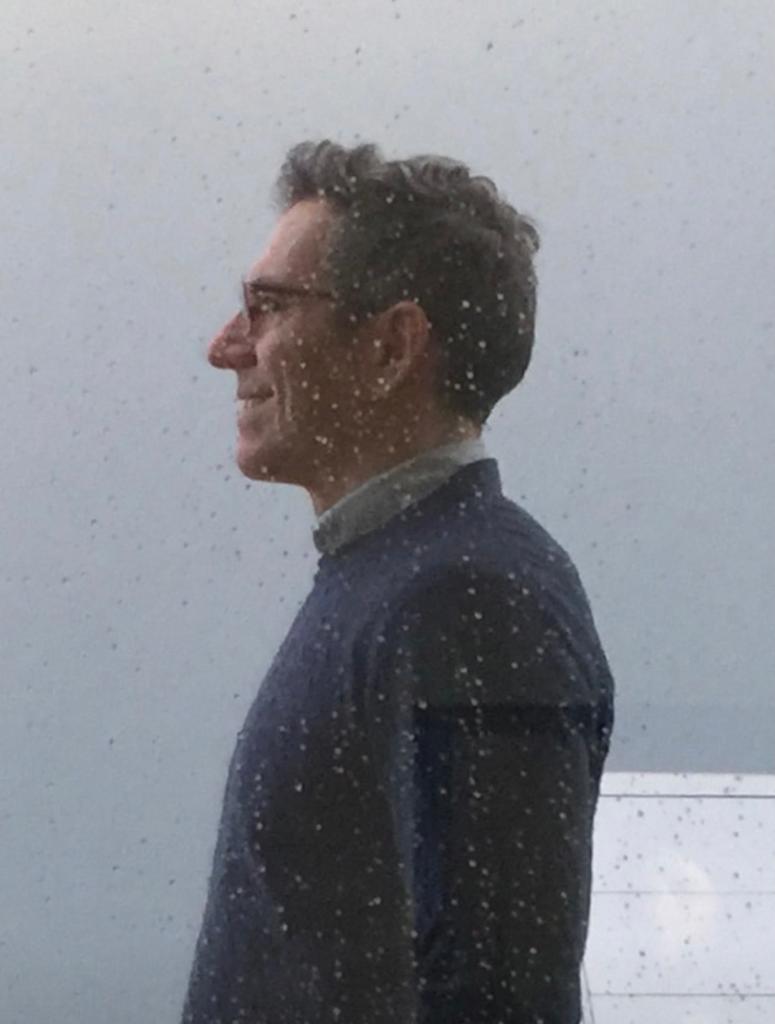 to his Great Space stomping grounds, working alongside Professor Michele Lamprakos and students in ARCH 601. For 25 years, Bresnick has developed residential and commercial projects around the world as part of Adam Bresnick Architects, with projects ranging from restoration and interior design to landscape and furniture design. He has taught various aspects of architecture for over 25 years in Spain and has served as a visiting critic all over the world.
"To be named the Kea visiting professor is an honor and an amazing opportunity: a circling back to the place where my life in architecture began," said Bresnick. "A university is a like a book of infinite pages, each of us writing chapters or contributing to others. My semester at Maryland will allow me to transmit my experiences to enrich the education of a new generation, hopefully inspiring in them, in turn, the responsibility to impart their own learning."
For ARCH 601, Bresnick and Lamprakos will guide students through the adaptive reuse of a former hothouse at the Finca Vista Alegre, a 19th century collection of public buildings and gardens, part of a former royal estate being converted into a park for a diverse community in Madrid. Lamprakos and Bresnick toured the site in 2019 before the COVID-19 pandemic. The project will challenge students to develop a proposal for an addition to the hothouse that marries with the site's greenscape.
This is not the first adaptation taken on by Bresnick. In 2014, he earned acclaim for the restoration and adaptation of a 16th century chapel in Brihuega, Spain, by transforming its function and feel while preserving its existing architectural value. 
"One of Adam's many talents is weaving together modern and historic fabric, which is the focus of my graduate seminar 'Adaptation,'" said Lamprakos. "I'm excited to collaborate with him on a real-world site with a fascinating, layered history. The studio grows out of Adam's long practice in Madrid, his deep knowledge of Spanish architecture and his wide network of professional and academic contacts. All of this will greatly enrich the studio!"
Created in 1967 by Paul Kea, one of the first licensed architects in Maryland, the Kea Distinguished Professorship serves as an opportunity for the Architecture Program to benefit from the expertise of eminent practitioners and scholars from around the world. Kea Professors serve as critics and lecturers for one semester, but the extended nature of the position is akin to a master class, offering students one-to-one interactions and valuable perspectives during studio time. There have been over 59 Kea Professorships since the program's inception. Kea's inaugural $50,000 gift has enabled the school to continue this valuable program for over 50 years, connecting some of the most respected and talented practitioners in the world with our students.
Program / Center Affiliation