Four industry trailblazers were honored on March 10, 2020, by the University of Maryland's Colvin Institute of Real Estate Development at the sixth annual Innovation and Entrepreneurship in Real Estate Awards Gala. Eugene Ford Sr., Eugene Ford, Jr., Michele Hagans and Jair Lynch were recognized for their outstanding contributions and "fearless" approach to innovative and sustainable development, urban regeneration, community partnerships and socially-minded housing.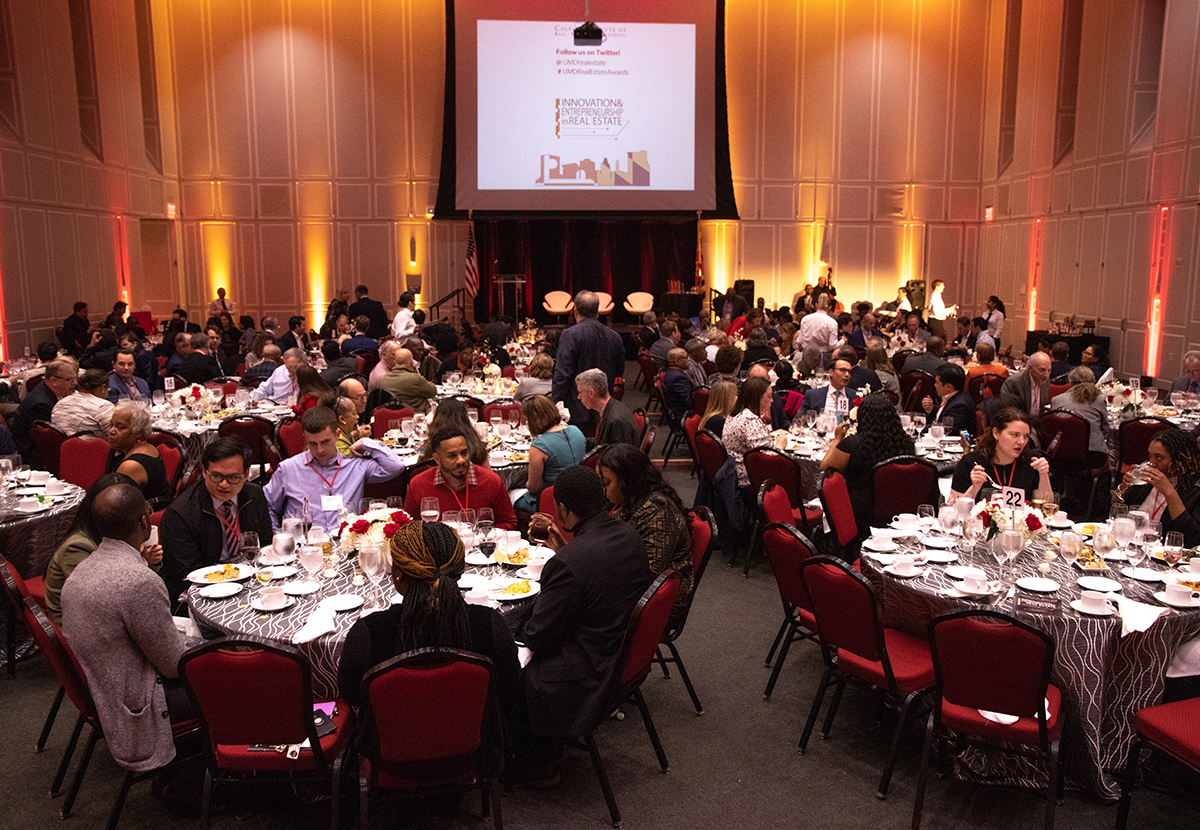 "Each year we are pleased to honor individuals who exhibit the responsible and renewing development practices critical to creating sustainable and vibrant communities," said Maria Day-Marshall, Director of the Colvin Institute. "This year was no exception. The Ford family, Michele Hagans and Jair Lynch are leading the way for the future of our profession."
The evening was hosted by Dr. Donald Linebaugh, interim dean of the School of Architecture, Planning and Preservation, Dr. Darryll Pines, dean of the A. James Clark School of Engineering and UMD President-designate and Dr. Ritu Agarwal, interim dean of the Robert H. Smith School of Business. Prior to the awards ceremony, Leslie Hale, president and CEO for RLJ Lodging Trust, and Ronald K. McDonald, managing principal for RMC Development LLC, provided a keynote "fireside chat" on innovation in the real estate industry, where they talked about the importance of mentorship and career/life balance. The event also marked the inaugural John B. Colvin Student Leadership Award, given to graduate student Sarah Ingerson. Ingerson will be the first to graduate this spring with dual master's degrees in Real Estate Development and Community Planning.
While this year's honorees bring unique and individual contributions to the development industry, they are united by a common mission to create vibrant economically and environmentally sustainable assets that enhance communities. Ken Ulman, UMD's Chief Strategy Officer for Economic Development, presented the awards to the honorees:
Eugene F. Ford, Sr., (posthumously) the founder and an owner of MidCity Financial Corporation and Edgewood Management Corporation, had a long and distinguished career in purpose-driven development; his vision helped launch the Community Preservation and Development Corporation and the Institute for Responsible Housing Preservation. As the Chairman of the Board of MidCity Financial Corporation and Edgewood Management Corporation, Eugene F. Ford, Jr. oversees the largest privately-held affordable housing corporation on the East Coast and has dedicated his 40-year career to ensuring both companies grow and flourish.
Michelle C. Hagans is a pioneer for women in the industry, who is single-handedly restructuring and developing her commercial real estate conglomerate—Fort Lincoln New Town Corporation, Inc. and Fort Lincoln Realty Company, Inc.—into one of the most prevalent developers in Washington, D.C.
Jair Lynch has developed over 65 private and public projects in the Washington, D.C. area through his company, Jair Lynch Real Estate Partners, which promotes urban regeneration, placemaking and resiliency.
"Tackling the extraordinary challenges of the 21st century requires individuals adept in creative problem-solving, collaboration and innovative thinking," said Darryll Pines, dean of the A. James Clark School of Engineering and University of Maryland president-designate. "The visionaries honored here tonight not only embody that spirit, they set an example for the transformative impact that inspires our students and will shape their professional practice."
Real estate professionals from all sectors of the industry, government leaders, as well as administrators, faculty, staff, alumni and students attended the dinner and awards ceremony to pay homage to the honorees and support future leaders in the profession. Proceeds from the event go towards scholarships for UMD's Real Estate Development Program, one of only a few multi-disciplinary real estate programs in the U.S. In February, the university announced that its first undergraduate program in real estate development will launch soon.
"Our honorees and guests not only excel in their professional endeavors, they make our region a better place to live," said Donald Linebaugh, interim dean of the School of Architecture, Planning and Preservation. "It is a thrill to gather them together each year to celebrate their achievements and support the next generation of real estate professionals."
Program / Center Affiliation