A Maryland student bikes alongside a tree-lined esplanade, waving to classmates as they duck into a wood-fired pizza shop, the beguiling sounds of Taylor Swift pouring from a graduate student's apartment window above.
This isn't a scene from Baltimore Avenue, UMD's lively college-town main street, but a mile west on Campus drive—the vision of architecture graduate students Angela Devon and Christina Bernardo. Devon and Bernardo were one of two student teams arguing to ditch asphalt for architecture by redeveloping Lot One—the university's second-largest campus parking lot—in preparation for a new Purple Line transit stop.
"There has been a lot of development attention on Route 1 over the past five years and it's very clear there are a lot of great things happening around College Park," said Professor Matt Bell, FAIA who led the studio course. "This, to us, seems like something really worth doing on this side of campus."
In the Washington region and many cities around the country, transit stops are development gold, offering opportunities for dense, walkable development. The Purple Line, a 16-mile, east-west light rail connecting Montgomery and Prince George's Counties, will bring a boom of opportunities for transit-oriented development to many communities, including College Park. The western entrance to Maryland's campus, where University Boulevard morphs into Campus Drive at the intersection of Adelphi Road—and which will host the first of three Purple Line stops in College Park—provided a blank canvas for students to explore designs that build a welcoming western gateway and look to the future of a growing and changing campus.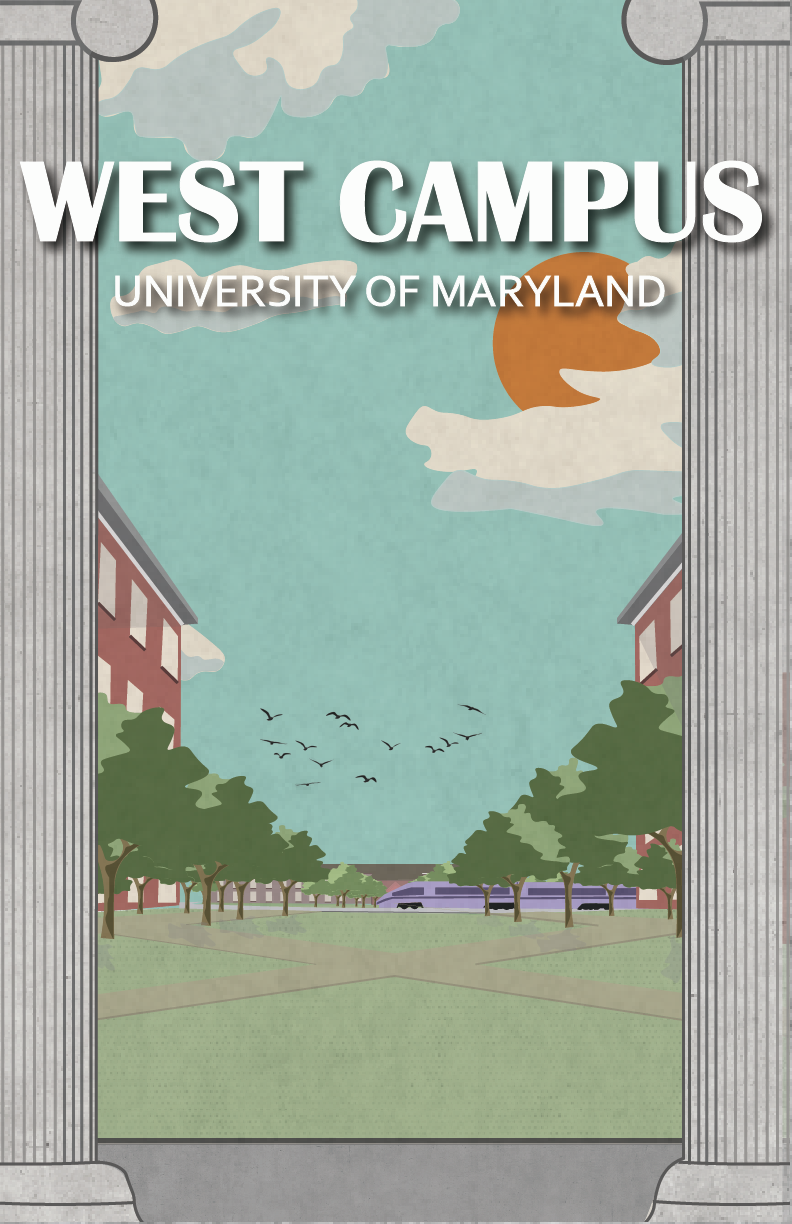 In the students' crosshairs was the West Campus' prime asset: the large swath of over 2,000 surface parking spaces, part of nearly 20 acres of unused space. Working with professional engineers, sustainability experts and traffic consultants from D.C.-area firm Perkins Eastman, the students' West Campus concepts offered ideas that mass and mix diverse assets—academic, commercial and residential buildings, greenspace and ample pathways for bike, scooter or foot—to support College Park's communities and strike a balance between town and gown.
Devon and Bernardo's concept centered around two major thoroughfares. A revitalized Campus Drive trades the disconnected mix of parking and institutional buildings for a new commercial and residential district that ties campus to the transit stop. Parallel to the new Campus Drive is "Tawes Lawn," an expanse of green unrolling from the Tawes steps to the railway's north-south jog through campus.
"Right now, it's a five-minute walk to cross Lot 1," said Bernardo. "It could be a five-minute walk across a mall similar to McKeldin."
Will Eckard, Danielle Abe and Austin Toth's plan for West Campus addressed a lack of affordable housing and food options through a commercial core with a city esthetic. Campus Drive greenway is a pedestrian-friendly green street lined with restaurants, apartments and institutional spaces; just steps away is Tawes Avenue, a mix of academic and commercial space that stretches from Tawes across the current Lot 1 to new student housing.
"I love that both groups are thinking about creating something very compelling and attractive to pull folks into campus," said Ken Ulman, Chief Strategy Officer for Economic Development at the University of Maryland. "People are not going to use this stop unless it is an attractive, safe, well-lit walk—they'll drive. These schemes offer a lot of possibilities that could solve some of the University's challenges and really set the tone." 
The loss of Lot 1 would be placated with anywhere between 1,000 and 1,600 spaces in deck parking within commercial and residential space. Students also believe that the Purple Line will drastically cut car dependency among students, faculty and staff. 
The West Campus concepts were two of eight schemes developed by Bell's studio course this fall around future stops on the Purple Line. Students also created transit-oriented development plans for the Riverdale and Lyttonsville stops. Carlo Colella, University of Maryland vice president and chief administrative officer, Alice Enz from Urban Design Associates, Paul Mortensen, chief and senior urban designer for Maryland National Capital Parks and Planning Commission and Professor Emeriti Roger Lewis and Steve Hurtt were also at the presentation.
The welcoming and inventive schematics presented by the students, said Bell, beg the question: should we be looking at UMD's development future differently?
"One thing that any large entity like UMD must consider is how projects represent their identity and values," he said. "Is UMD big enough, both population-wise and geographically, to have two college town main streets? My view is, absolutely."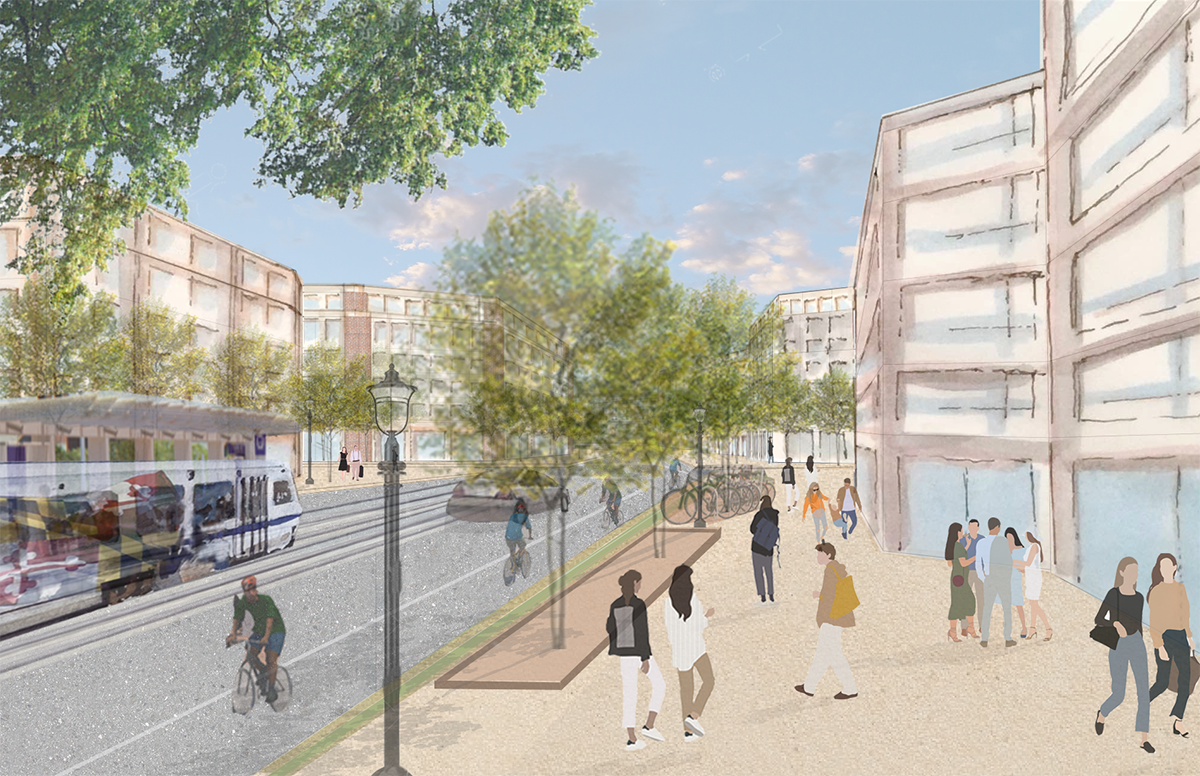 Program / Center Affiliation
Research and Creative Practice Areas