Five countries. Fifteen students. One world-renowned architect. Throw in a young dean, one former Peace Corps volunteer, 19 flights and an eventful bus trip through the Sahara and you have a trip for the ages.
---
In the summer of 1971, just three years after the University of Maryland established the state's first-ever architecture program, Dean John Hill, Kea Distinguished Professor Charles Moore, and then-Assistant Professor Roger Lewis took the program's inaugural class on an epic architectural trek across Europe, the Middle East and Northern Africa. Over the course of 32 days, the intrepid group traveled across eight countries over two continents exploring architectural marvels both extravagant and every day. There were no tour guides; the group relied extensively on Moore and Lewis' past travel experience and a highly organized, exhaustive itinerary.
To say the trip was ambitious is an understatement. But for the class of '72, the trip was also transformational; it changed the way they saw the world, made them better designers and tightened the threads of the already close-knit class. In many ways, it made them fearless. One student lost so much weight on the trip he was unrecognizable by his parents at the airport.
On the trip's 50th anniversary, Professor Emeritus Roger Lewis and a number of his former students reflect on MAPP's first study abroad trip—and its lasting impact.
---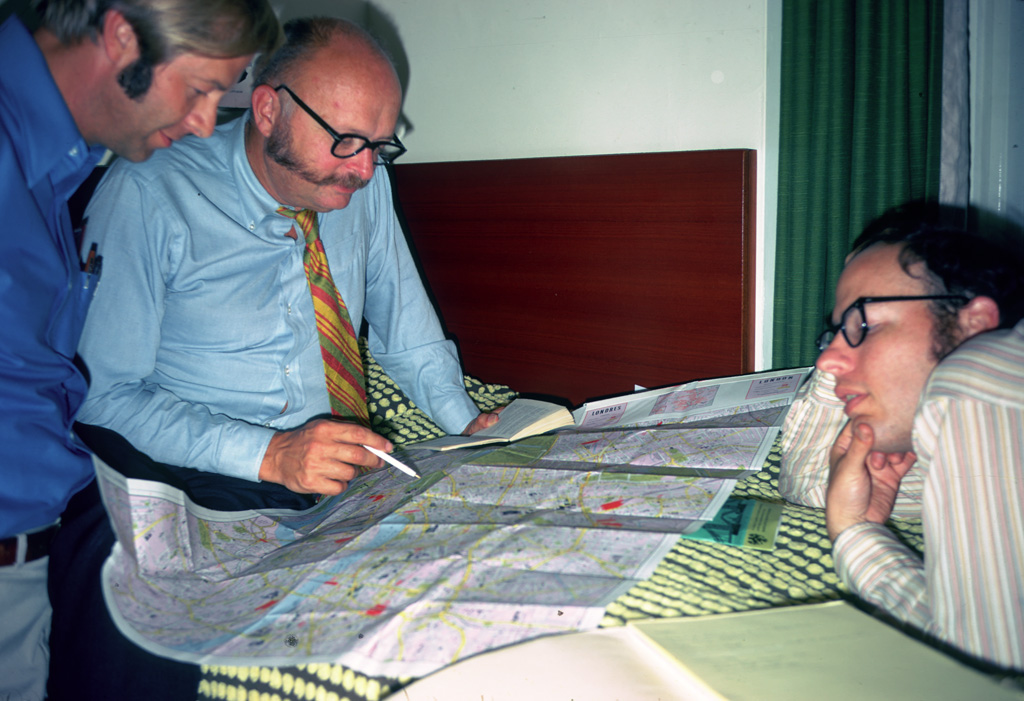 The 1971 Architecture Tour was largely made possible by Charles Moore, the program's second Kea Professor. A highly accomplished architect, historian and teacher, Moore, who was serving as the dean of Yale University's architecture program, agreed to come to Maryland as a visiting professor for the fall of 1971, with one caveat—that a portion of his salary, paid for through an endowment established by regional architect Paul Kea and his wife Grace, be rerouted to subsidize a month-long summer study abroad trip. Mrs. Kea agreed. Moore and Lewis set to work planning the trip, which focused on exploring not just great architecture, but architecture in context.
Steve Parker, '72: I remember that the theme of the trip was related to a couple of subjects, one of them to see what people did when money—particularly in terms of housing—wasn't an object, and the other was about seeing indigenous architecture and what people did in relation to what they had and where they were in the world.
Roger Lewis, Professor Emeritus: Charlie knew what he wanted students to see. I was just an assistant professor trying to get the logistics done with the travel agent. But he knew I had been to Tunisia with the Peace Corps in 1964 and he wanted to see it—and with me there, we had a natural tour guide; we didn't really need anyone else.
Mark McInturff, '72: I remember a meeting at the school, and a list was tacked to the board that included a number of places we didn't go, including Isfahan, Iran. I think they just made a big list, then it got chipped away a little bit, although we did a tremendous amount of traveling.
Ron Pales, '72: The itinerary, planned by Charles Moore, was a string of best moments one after another. John Hill, Charles Moore and Roger Lewis were the perfect mix and provided exactly the right amount of guidance.
---
Support from the Kea family covered expenses for the three faculty and half of the trip cost for each of the students.
Irwin "Chuck" Oler, '72: I went to my parents and said, listen you pay 400 dollars the university pays 400 and I'll be gone for a month. And they said, "You'll be gone a month? That's great!" So, it was easy to get them on board.
McInturff: [Professor] John Wiebenson got me a job at Skidmore, Owens and Merrill for half the summer, where I worked a lot of overtime and earned $700 for the trip. As we were getting ready to go, they handed each of us this book of plane tickets; if you looked at the value of the tickets, it was roughly three times the cost of the trip. So, the Kea gift paid for a large portion of that trip.
---
Out of the 18 students in the class of 1972, fifteen—including just one of the two women in the class, Barbara Hill—attended the trip. Classmate Susan Notkins had just gotten married and didn't attend. Rolando Sanz, a Cuban citizen, feared he would not be able to return to the U.S. Because spouses were not allowed on the trip, Ron Stupp also chose not to go; instead, he and his wife Susan bought a VW in Amsterdam that summer and followed the school itinerary throughout Europe.
Ronald Stup, '72: We spent two-and-a-half months on the road, from Amsterdam to Istanbul and back. Unfortunately, I wasn't able to benefit from seeing the "great buildings" with my class.  Nevertheless, the memories of that trip have lasted a lifetime for me and Susan. It turned out to be one of our lives' great experiences.
---
The group met at Washington National Airport on a balmy Wednesday morning, July 28, 1971. By that night, they were in London.
John Lucas, '72: I came from a small, poor rural waterfront town on the Eastern Shore. I had travelled little. The 747 flight to London was my first plane ride. It was all new to me.
Lewis: The 747 had just been put into service—I remember looking at this plane and thinking, this can't possibly fly. I remember the long, long takeoff run of that 747 out of JFK, I mean it was so much bigger than anything we've ever been on.
Oler: We came into Heathrow, and we were just agape.
---
From July 28th to August 2nd, the students explored London and Amsterdam, acclimating to a new time zone and what would be a dizzying number of hotels and hostels. Everyone doubled up, with one notable exception.
Wayne Neale, '72: I remember the trip starting with John Hill and Barbara Hill booked into the same room together.
Lewis: I think what happened is the hotel people, they saw this this odd number of rooms and two Hills. So, they assumed there was some mistake, because these are all double rooms. It shows you how things have changed. There were only two women in the first class at Maryland. The last time I was out at the school for a review, it was 80% women.
---
Two days in Paris kicked off a five-day trip across the Loire Valley, seeing such notable works as Versailles, the cathedral in Orleans, and the Abbey of Trinity in Vendome.
McInturff: I'd been to Europe two years earlier and, by amazing coincidence, we ended up staying on the same street in Paris. I taught everybody the French phrase "I want the red wine that's the cheapest you have."
Parker: I remember buying that dollar wine.
Lucas: Villa Savoye at Poissy made a huge impression on me. I had never been inside or even seen anything like it in person. It resonated. It is the epitome of European Modernism. I wonder if one can still buy a bottle of wine in Paris for fifty cents. Thanks for the tip, Mark.
Oler: Notre Dame just blew me away. Every cathedral we went to we walked up to the roof to get a better look at the buttresses. And at Notre Dame, it was a five hundred step walk. When it caught fire, I was sick to my stomach.
---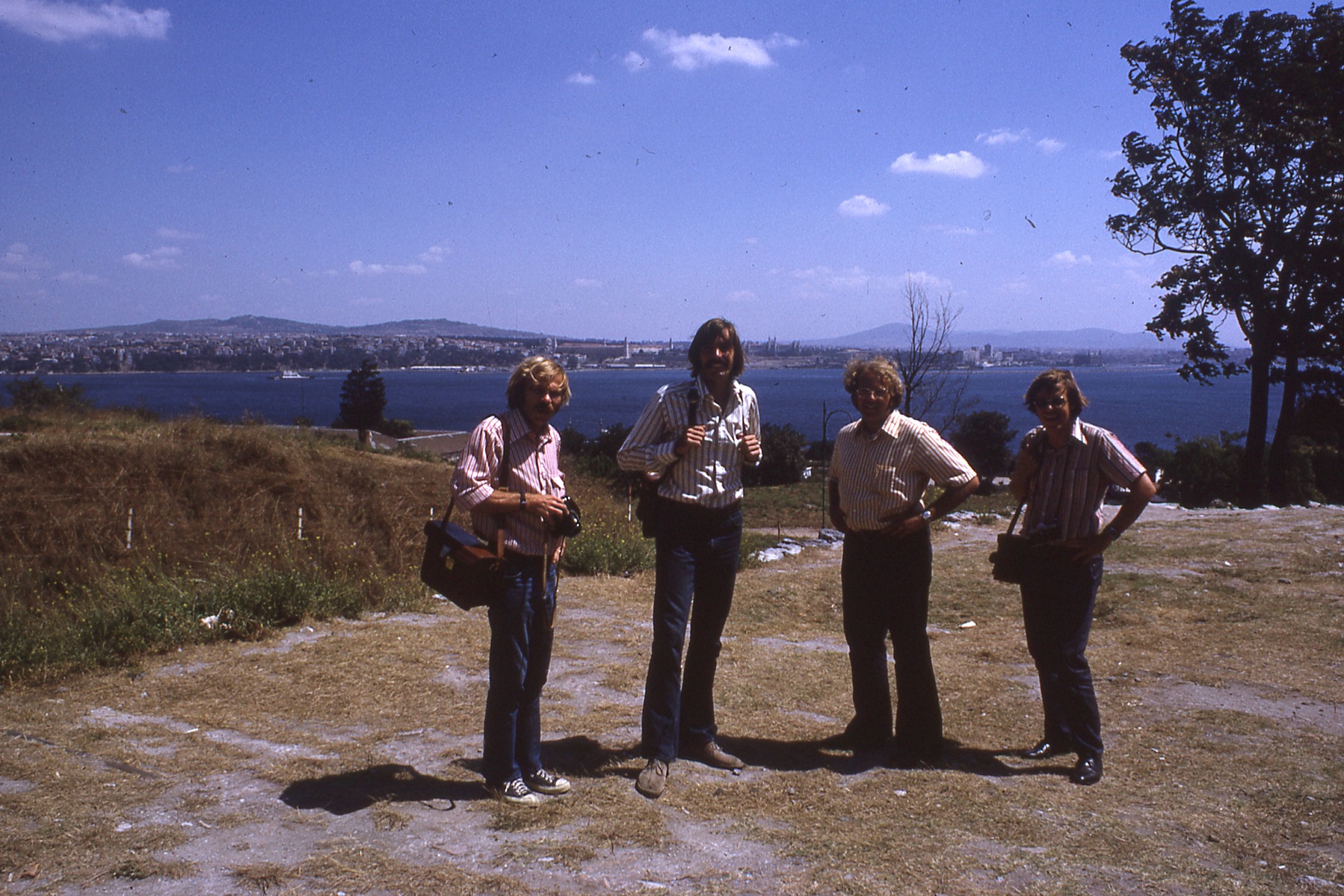 For almost all the students, this was their first time outside of the United States—many had not traveled much further than Baltimore. It was also the first trip abroad for Dean John Hill. The trip transformed images seen in a darkened College Park classroom into something students could walk inside and touch; seeing these places up close and how they fit within their environments, said Lewis, was eye-opening.
Parker: We would study something in our architectural history course, and I would have an image in my head of a church or building based on the slide. And then I saw it in real life. I mean the experience was totally different because it was in a place, on a street, in perspective with buildings around it. Everywhere I went it was just a discovery of these places—and they were all so different.
McInturff: I realized that the bigger and the more ornate places do not mean much to me. It was those kind of in-between places like the Alhambra and the Villa d'Este.
Lucas: The timeless, monumental and awe-inspiring ruins of Rome and the Athenian acropolis made such an impression that, though I didn't recognize it for some time, they immensely influenced my work, research and teaching ever since.
---
France was followed in quick succession by a coast-to-coast tour of Italy, Greece, Istanbul, Tunisia and Spain. The group visited over 30 architectural sites—from the cities of Rome and Athens and enclaves of Mykonos to the ruins of Pompei and Spanish fortress complex of the Alhambra. Despite the packed itinerary, students also had plenty of time to venture off on their own.
McInturff: There were days where we were on our own and we often went off two or three us in different directions. We'd just feel our way around.
Lewis: Every day I was the one concerned with making sure the students were showing up when they were supposed to and not getting arrested and so forth.
Neale:  I can think of a half dozen other funny incidents, none of which are suitable for print.
Lucas: I vividly recall the labyrinthine bazaar at Istanbul. Endless vaulted tunnels crammed full of goods and foods…all to be bargained for. I am uncertain how Chuck, Bobby and I found our way out.
Oler: Before we left Italy, we caught a Verdi outdoor concert with a full orchestra. It was so cool, and the best part was meeting people from other countries; you realize how small you are and how important it is to remember how lucky we all were.
---
If the architecture were a feast for the senses, the trip's culinary adventures took care of the stomach. A 17-course meal in Amsterdam; a splurge on Chateaubriand in Tunisia; a rooftop dinner under of an illuminated Parthenon; a liquid lunch in Spain. One rule was clear: go local. Students were threatened with expulsion if they stepped foot in a McDonald's.
Lewis: Charles Moore was a serious foodie. Food and architecture—that was his life. The breakfast conversations would be, what are we going to do for lunch?
McInturff: Lunches were often planned. At one of the French places we went to, there was a sign in the window in French that said "no long hair." And we walked in, this rag-tag group of students, looking like a rock band. There wasn't much they could do, there were too many of us.
Lucas: A shout out to Barbara [Hill], who not only had to put up with the boys but who had to put up with searching for food that she would not have an allergic reaction to.
Parker: In the evenings we'd get together and talk about what we'd seen that day. And I remember Charles Moore talking about what he did that day, and in my mind I was thinking, I went in the same place, and I didn't see any of that! If we were there for another day, I'd go through them all again and look for what he saw.
Oler: It was those times, sitting outside a restaurant just talking, that I cherished the most. We all saw things so differently. I think there were a few times I just got up from the table and went back, because I knew I wasn't coming back for a while.
---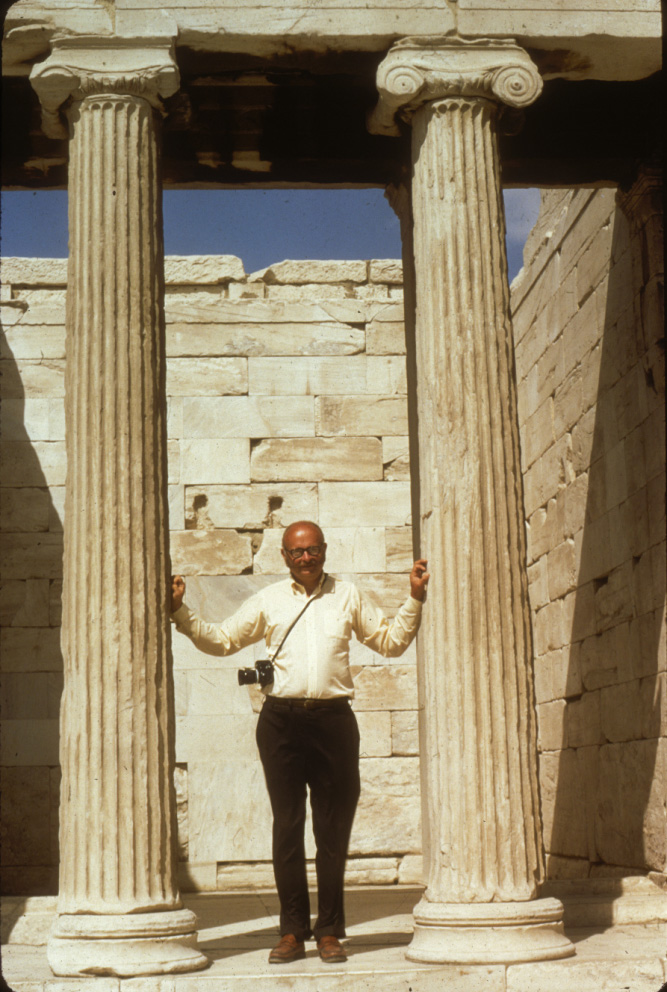 With Moore, there were no trips to specific architectural sites—the whole journey was worth observing. One of the best-known architects in the world, he was habitual with both the camera and the pen. He wrote his book, the Place of Houses, during the 1971 trip.
McInturff: All of Charlie's students loved him and all other architects knew who he was. You couldn't walk down the street in Rome without someone coming up to him exclaiming, "Charles!" And he would remember their name.
Parker: Charles Moore was given a camera and an unlimited amount of film. I had a camera and about $10 worth of film, so I was being really cautious about what I shot, but he was shooting like crazy. There were times where I was standing side-by-side with him, taking pictures—where I may have shot a building, he shot the shadow of the palm tree along the side of the building. And I didn't see that shadow, I just tried to shoot the building. It opened my eyes to the possibility of seeing more.
McInturff: I think the thing about traveling with Charles Moore was that architecture was his whole life. It was present at lunch; it was present when we were walking around. It certainly rubbed off. I would say for some of us, that trip was a launch, in a way.
---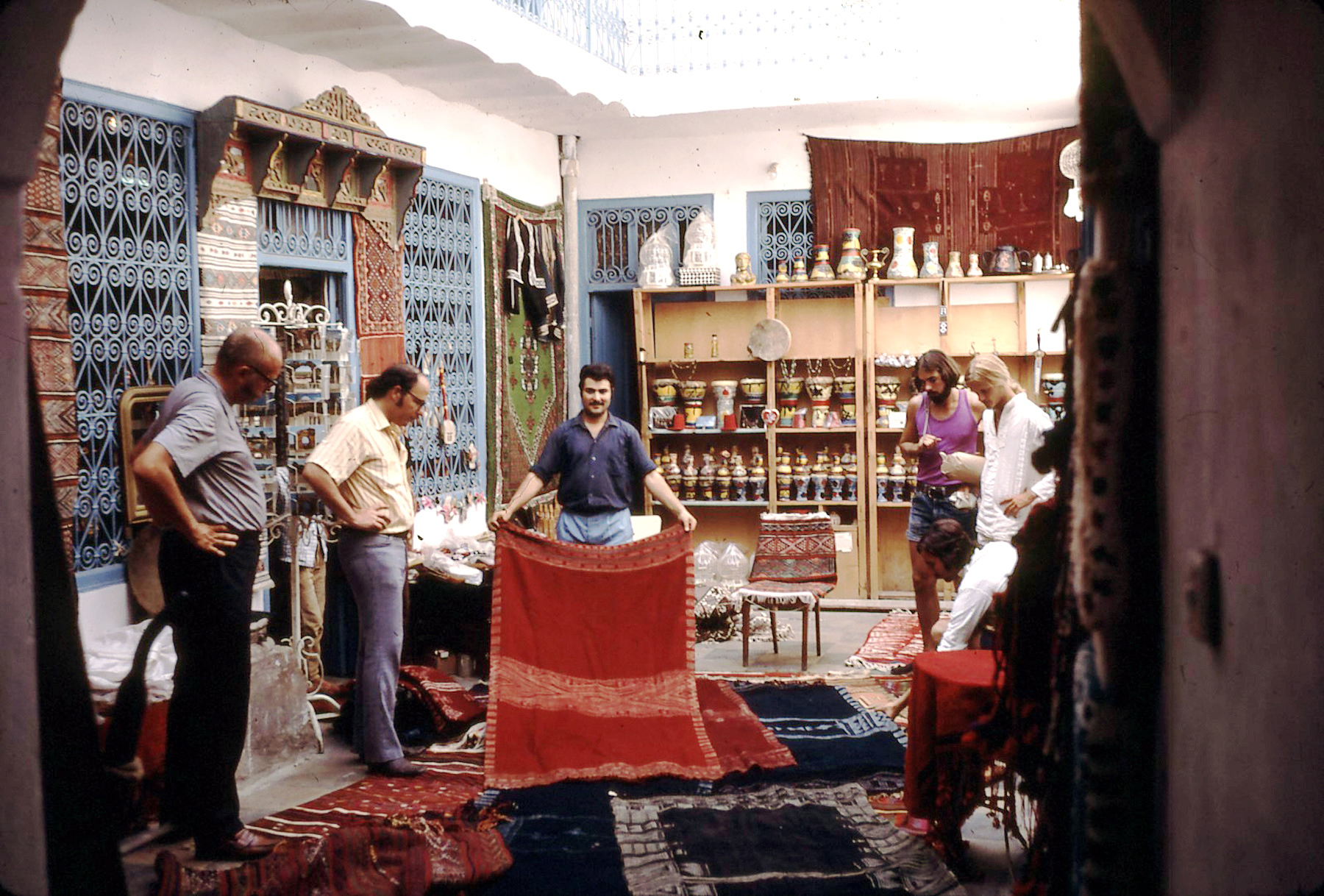 The inclusion of Tunisia on the trip's itinerary would have been improbable had Lewis not served there in the Peace Corps—and an impossibility today. Landing in Tunis, the students traveled south across the Sahara to see the underground dwellings and indigenous architecture of Gabes, El-Djem, Matmata and Djerba. As Parker said, "it was like another planet." Ironically, director George Lucas used the same dwellings just a few years later for Luke Skywalker's home planet of Tatooine in Star Wars.
Oler: You can imagine the shock. Years later, you're watching this movie and all of a sudden, it's like, whoa, we were standing right in there! It was amazing.
Parker: I think one of the things I learned from Tunisia was the beginnings of sustainability. The whole notion of thermal lag, digging down into the ground. I mean it was hot. In Matmata we went into these places [underground] and it was like air conditioning in there. And that was one thing I took away—working with what you have, to make something work for you.
McInturff: When I look back on Tunisia, I realize I will never be able to go back now. Some of those opportunities that we had we may not get again.
Lucas: The Sahara was amazing. The land, the climate, and the indigenes constructions. We rode in a bus, no AC, windows closed to keep out the hot air blast.
---
The trip was not without a few bumps. In Tunisia, the tour bus hit an elderly man on a bike navigating the narrow dirt roads, threatening an international incident (he ultimately was unharmed). Steve Parker left his airline tickets and passport in a Tunisian post office, only to realize it an hour into the desert; he and Lewis flagged down a lone taxi driving in the opposite direction while the rest of the group waited an hour on the bus in 124-degree heat. A return boat trip from Mikonos encountered rough seas and rougher stomachs—everyone, including the crew—got sick. But the story most recalled with near-perfect, slightly embellished detail, was their stay at the Hôtel Transatlantique.
Lewis: The first night we were in Tunis at a hotel that the agent had booked for us. In the middle of the night there was a commotion—in the room where Mark McInturff was staying, apparently there was a bug. That freaked out Mark and he woke up everybody.
McInturff: There was a cockroach the size of a small bird in the bidet in my room.
Parker: He charged us admission to come in and see it.
Stan Ryder '72: I remember an enormous bug trapped under a glass in a terrible hotel in Tunis. [On] the return trip to Tunis [we stayed] at the Hilton with ice water on tap and drinks at the pool, which was quite an upgrade.
Pales: After enduring the Tunisian desert, and as the sweltering air rushed through the bus, the vote to transfer hotels to the Hilton and its swimming pool was unanimous.
Oler: We're at the Hilton and it was a nice hotel, right on the water. I'm talking to John (Lucas) and a couple of the guys in the hotel lobby, and I look up at this alcove near the ceiling and see a claw hanging over the side. And I'm like, holy s--t what is that? Then I see the whole thing and it's this enormous lizard. I was the only one who saw it.
---
On a Tuesday at the end of August, the weary group piled onto an Iberian Airlines flight to return to College Park by way of JFK. With the new building still under construction, the students returned to the Gulch and the Architecture Annex, a small white post-War building that temporarily housed the program. Surrounded by familiarity, in many respects, everything had changed.
McInturff: As a class, that trip gave us a group of memories and places that we could pull up and use, like a collective encyclopedia of places. Travel has always been important to me but that experience really cranked up that belief. In some ways, it inspires you to come back and do more work.
Parker: One thing it did for me, as a first-time traveler, is affirm that I can do this. I've had no fear since then. I felt that I learned an independence out of it. I think I also became more aware of things—seeing things when you looked at a building or in a place. I looked at things differently after that trip than I did before that trip, certainly.
Lewis: I think it really made them all want to travel more and see more of the world.
Oler: We were a close-knit group because we were all going through the same thing. We were sort of test dummies—it was a new school and we all had to be fast on our feet and quick in our heads. Those friendships got even stronger on this trip. We got to see the professors and the dean in a different light. For me, that was the most meaningful impact.
Lucas: That experience has led me to seek out other such places to renew and intensify the feelings instilled there. I have since visited Machu Picchu, Giza, Chaco Canyon, Mesa Verde, Chichen Itza, Uxmal, Tulum, Tikal… the list is long. And during my career I have had the opportunity to work on several significant memorial projects that I believe have their roots in that student experience.
Ryder: The architectural sites were unbelievable, but the people and crazy events are some of my lasting memories. I treasure the memories of the trip.
Pales: After all these years, I still recount some of our experiences to friends and family. Having seen so much firsthand enriched our architectural education beyond what we could have gotten in a classroom. I will be forever grateful to the school for providing that opportunity of a lifetime.
Program / Center Affiliation