Volunteers Turn Parking Spaces Into Mini Park for Park(ing) Day
---
By Sala Levin
Blue skies, a warm (but not scorching) sun and just the right touch of crispness in the air practically begged Terps to leave their study carrels, offices and residence halls on Friday and rejoice in the pleasure of being outside. A new, and temporary, mini park on campus offered the community the ideal place to indulge in the September splendor.
Its location? A block of parking spots on Preinkert Drive, just outside Queen Anne's Hall.
As part of the global Park(ing) Day initiative, which encourages people to temporarily repurpose curbside parking spaces as parks, UMD's Department of Transportation Services' BikeUMD, the campus' student chapter of the American Society of Landscape Architects (ASLA), the Student Planning Association and Terps for Bike Lanes turned the metered spaces into a space where people could sip coffee, play cornhole and learn about the important role public parks play in communal well-being.
"It's about showing how we can interact with the space differently than (we) typically would," said McKenzie Fei '23, vice president of UMD's ASLA chapter.
Playing on a café theme, organizers sold coffee and doughnuts, offered secondhand art and design books donated by UMD Libraries and set up games like life-size Jenga and cornhole. (Funds raised went toward covering the costs of an ASLA trip to a San Francisco conference.) Artificial turf turned the pavement into a grassy oasis, and DOTS invited guests looking for a smoothie to hop on their Bike Blender, a stationary bicycle that powers the kitchen accessory.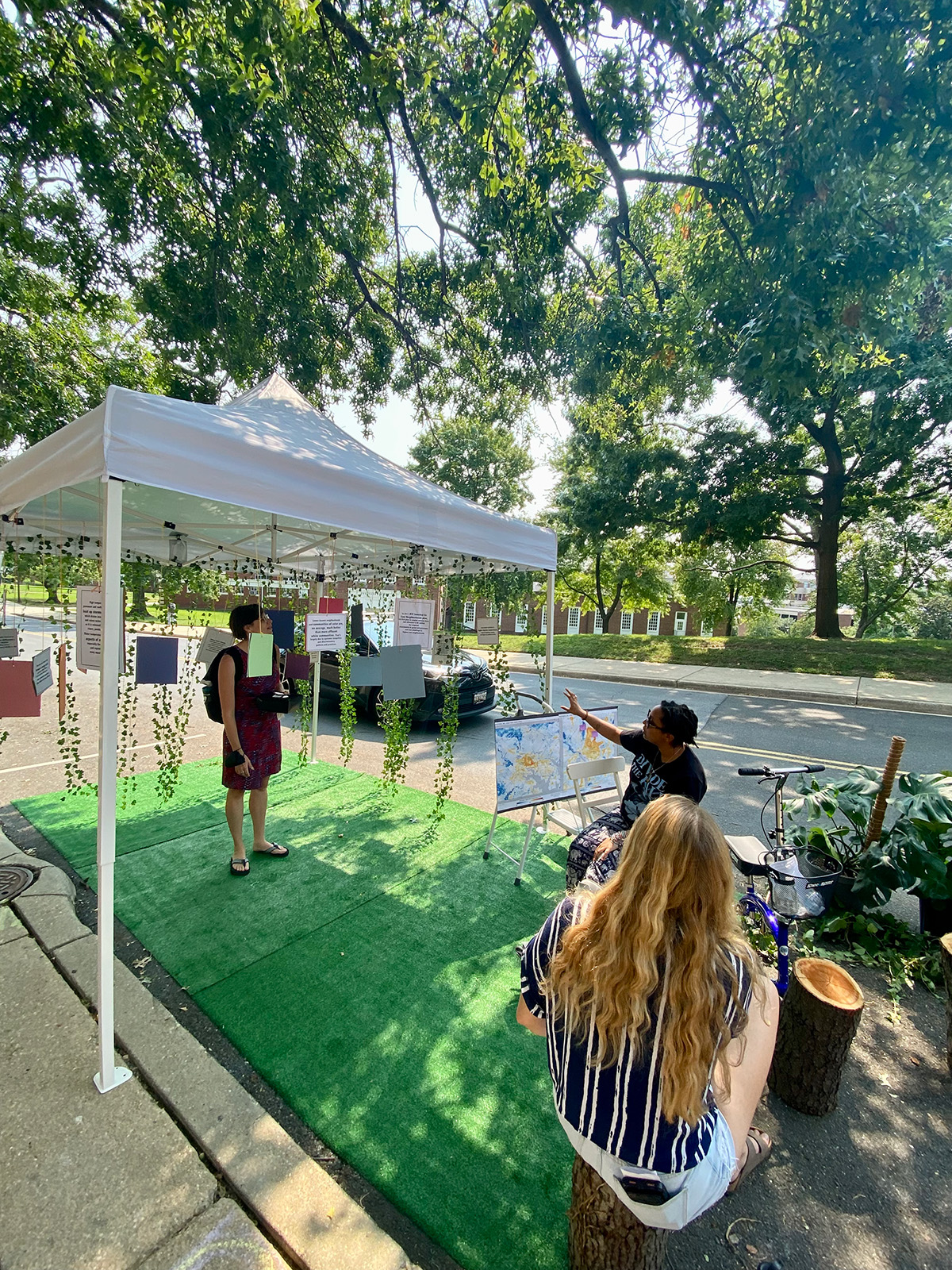 "We're fighting for urban open space because there's so much parking in the world and we need more green space for people and the environment," said Javi Diaz-Ortiz '23, president of the ASLA chapter. The COVID-19 pandemic has proven how popular these "parklets" can be, with diners flocking to outdoor seating reclaimed from vehicle traffic.
Graduate students in Urban Studies and Planning taught visitors about urban heat islands—areas in a city that are hotter than surrounding greener areas. Asphalt and sidewalks soak up more heat than grass, cars and industrial machinery let off exhaust heat, and tall buildings decrease air flow, trapping heat.
On a map showing the afternoon temperatures on Aug. 28, 2018, central and eastern Washington, D.C., blazed orange, indicating temperatures in the upper 90s. In Rock Creek Park and the leafy enclaves west of it, a cool blue—temperatures in the high 80s and low 90s—took over. Neighborhoods most affected by urban heat are "often communities of color and lower-income neighborhoods," said Rachel Whiteheart MCP '23. "They don't have access to the same resources as other communities and haven't been invested in by governments in the same way."
For Dominique Gebru MCP/MIM '24, unpaving paradise and taking down parking lots is a way of rectifying historic bad planning. "We're trying to be part of the new generation of community planners that really are working to undo some of the wrongs of the past," she said.
Program / Center Affiliation