A one-room stone schoolhouse in York County, Pennsylvania, thought to be the oldest surviving schoolhouse in the region, has earned a spot on the National Register of Historic Places, the result of an intensive nomination project co-authored by Professor Donald Linebaugh and former historic preservation student Julie Masal. The Hyson School and its turn-of-the-century successor, the new Hyson School #10—which is also part of the Hyson School Historic District designation—offer a physical timeline of early American public schools.
Authorized by the National Historic Preservation Act of 1966, the National Register of Historic Places is the official list of the Nation's historic places—such as buildings, structures, sites—worthy of preservation. It recognizes a place's historic or architectural significance to the local community and to the Nation.
Historic one-room schoolhouses are quite common in Pennsylvania, but there are notable differences that set the Hyson Schools apart. The original school was erected around 1857 on land transferred to the Hopewell Township School District by the family of prominent local builder Archibald Hyson before standardized schoolhouse programming swept the state. The second, larger schoolhouse—built in 1892 across the road from the original and complete with a bronze school bell—is an example of construction guidelines issued by the state for schoolhouses. Together, they are a rare physical example of the evolution of schoolhouse design, just steps away from each other.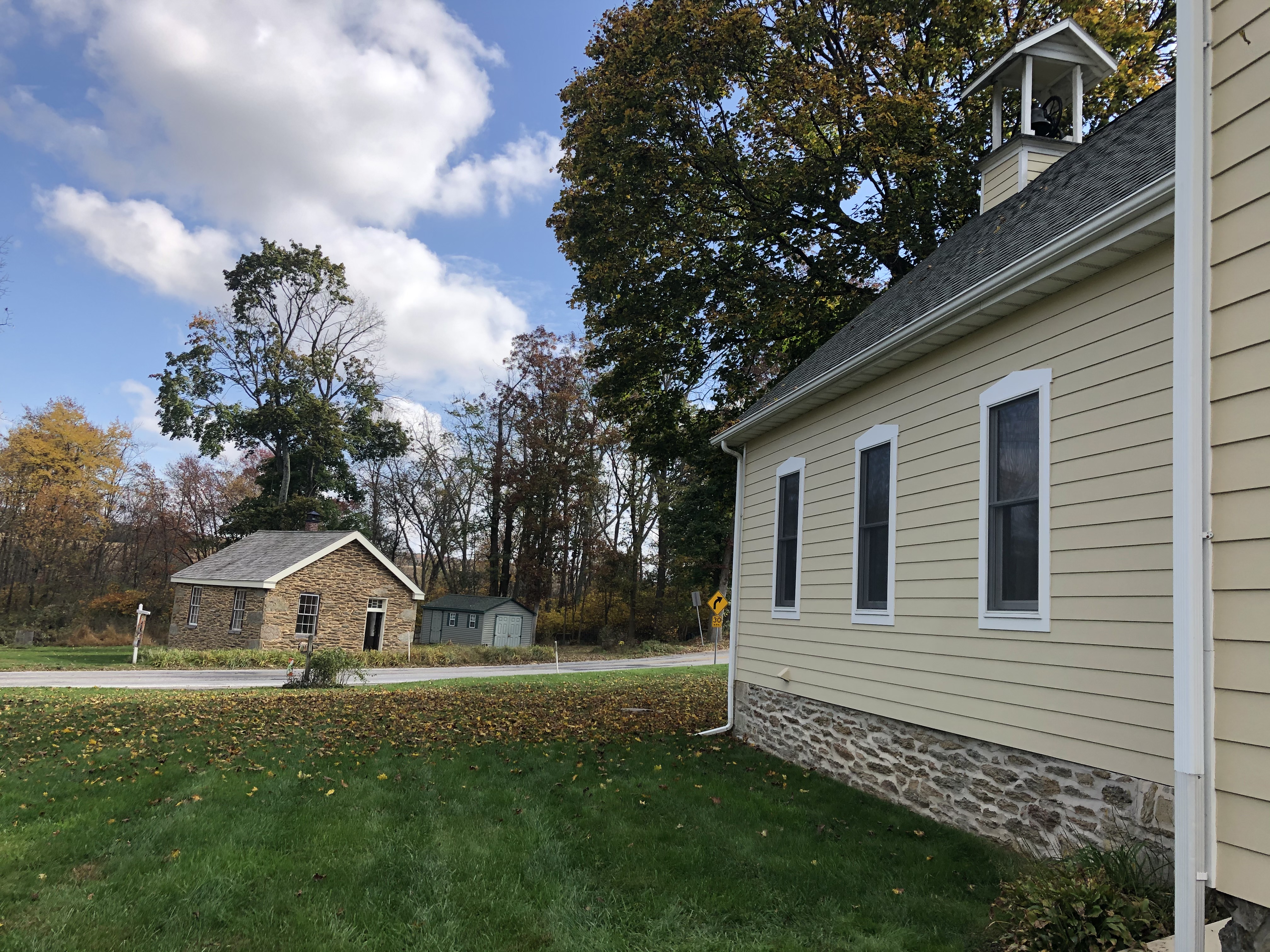 "From a historical standpoint, they represent 150 years of education in one spot," says Linebaugh. "Coming down the road, it's like driving back in time."
The project was brought to Linebaugh's attention by Myrna Hyson-Ross, a Hyson family descendant who grew up in the area, attended the new Hyson School and inherited the first Hyson School in the mid-20th century. Linebaugh brought on Masal, a preservation student at the time, to help document the school and write the nomination as part of an independent study course. The unusual nature of the schools' proximity to each other prompted the state to request both be included in nomination.
Historic research, dendrochronology, archaeology and extensive documentation pieced together the buildings' place within the American and Pennsylvania schoolhouse narrative, but also offered a chronicle of the township itself: the politics surrounding early education, the will of the townspeople and the legacy of one family. Linebaugh and Masal suspect that Archibald Hyson, who was an active participant of the school board and who reportedly procured a flag for the new school, was involved in the construction of both schools. According to the report, the Hyson Schools educated generations of children, with many members of the Hyson family becoming teachers.
"Without a doubt, the Hyson family was instrumental in shaping early education in Hopewell," said Linebaugh, who said it was a dream of Hyson-Ross, now 96, to commemorate the sites. "It was an honor to mark that history."
Program / Center Affiliation
Research and Creative Practice Areas