Most students at the University of Maryland probably don't consider what went into creating the campus's iconic red brick buildings. But for one afternoon each fall, that afterthought becomes an assignment as fledgling architects sling mud and level rows of brick.
Brick Day is a crash course in the highly skilled art of bricklaying, where students swap T-squares for trowels to build an 11-foot wall in the Architecture Building's cavernous Great Space. A program tradition that draws throngs of spectators each year, it's also a tangible connection between the designs students conceive on paper and the craft that brings them to life.
"We want the students to understand not just how to make something look good but how to make it actually work," said architecture Lecturer Marcus Cross M.Arch. '05. "Sometimes t­­­­­he best way to do that is to do things with your hands."
[Design Course Challenges Students to Craft Comfortable, Usable Chairs—Out of Cardboard]
After a short tutorial Monday on the materials and methods of brick and block construction, students tentatively grabbed a brick and slathered a short end with a viscous mortar, which has the look and feel of expired hummus. Contorting and pivoting between a wheelbarrow and the wall, they tried to replicate the intricate choreography of the master masons at Rockville-based Potomac Valley Brick and Supply (PVB), the event's longtime sponsor.
What looked easy was downright awkward: Blobs of mortar hit the drop cloth and the unlucky sneaker; shaky trowels desperately scraped up excess mud that oozed from between rows. A student in a dress came prepared with gloves, but not a change of clothes.
"The hardest part is keeping the bricks straight," said sophomore Francesca Ly, who wore a T-shirt and track pants for the occasion. "It really puts the process of building and construction in perspective. I don't think I'll look at brick buildings the same way after this."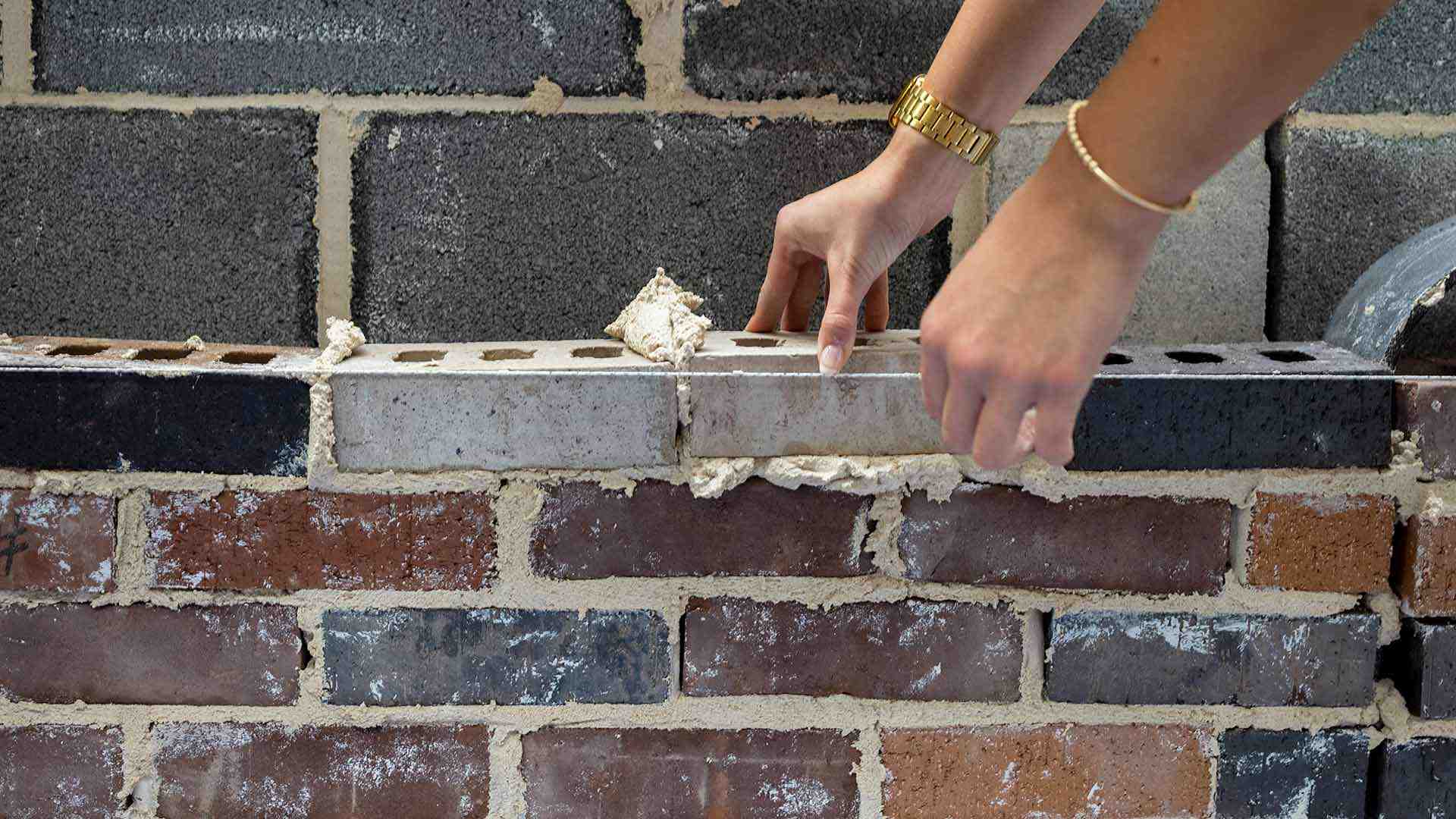 Co-founded in 1976 by former UMD student J. Alan Richardson, PVB has supplied the brick for most of Maryland's campus buildings since 1976. The company has been offering Brick Day to architecture students at Maryland for close to 20 years and in 2018, added a merit-based scholarship for graduate students in the program.
Resilient and inexpensive, brick has been a favored building material for thousands of years, but its staying power is also due to its insulating and passive thermal qualities. In a profession where glass and steel often reign supreme, brick can also be expressive, said senior Wisdom Harden.
"There are so many different ways you can use brick, and we've studied some really amazing arrangements through the program," she said.
Bricklaying is an intricate craft, requiring exact positioning and pressure and the incorporation of anchors, mesh and flashing to make the wall strong and watertight. For Maryland's rookie bricklayers, it was also slow-going, requiring roughly three hours to complete their 4-by-11-foot wall.
Disassembly was a bit quicker, thanks to both PVB's masons and a cement-free mortar. The experience, said PVB sales representative Kirk Taylor, often garners more appreciation for the process, something he hopes they will take into the profession.
"Bricklaying is a tried-and-true practice that has been working for millennia," he said. "When these students are out on a job site and see a brick wall, they'll have a deeper understanding of the time and craftsmanship that went into it."
Program / Center Affiliation