Gargoyles and all, 90 West's Return Pays Homage to New York's Resiliency
---
A few of the window frames on the north façade of 90 West Street, a 23-story, neo-Gothic skyscraper in New York City, differ from the others. Pitted and scorched, they are among the building's last visible scars of Sept. 11, 2001, when the Twin Towers crumbled in horrifying succession just steps away from its Lower Manhattan address. The 1907 creation of famed architect Cass Gilbert did more than bear witness to the terror of that day. It survived, despite an assault by twisted steel and debris and hellish, days-long fires.
Twenty years later, 90 West stands in restored glory, thanks in part to University of Maryland alum Charles Kibel '90 and his family's development firm, which spent four years bringing the apartment building back from the ashes. A lifelong New Yorker who is now principal for the Kibel Company, Kibel this week recalled restoring one of New York's most enduring landmarks, coping with the personal grief of Sept. 11, and designing an enduring tribute to a childhood friend.
What do you remember about the morning of Sept. 11?
I was in my apartment on East 84th Street, and I got a call from my sister-in-law that the World Trade Center had been hit by a plane. I looked out the window of my apartment and could see it way downtown, the Trade Center just burning. My two groomsmen were on the 104th floor of one of the buildings; they both worked at Cantor Fitzgerald. It was just a harrowing day, hoping that they would get out, but they were unfortunately trapped and didn't make it.
I spent the following four weeks just shuttling between the two families, my friend Calvin's eight-month pregnant wife and my friend Doug Gardner's family. I grew up with Doug, he'd been a good friend for my whole life. It was just a very tragic, sad, life-changing experience for me.
Your family's development company acquired 90 West several months after 9/11. What was the condition of the building?
The copper roof was melted; there was extensive damage on a lot of the terra cotta tiles that made up the façade. Even the granite base had burned on the northern façade, which is the side that faced the Trade Center. It's incredible you know; for granite to burn, it's got to be pretty hot.
The first time we met our façade guy, Mark Anderson, was on this project; I remember he had his mountain climbing gear in the car. He climbed every surface of the exterior and marked each terra cotta tile either "fine," "needs repair" or "needs replacement."
How did you resurrect some of the building's architectural details?
We had to replace most of the granite on the north side, and it was done pretty ingeniously. They didn't have really wide, fat granite like they did at the turn of the century, so it was two-inch granite with a metal frame behind it. So, the granite was flown from the quarry on the East Coast to a location to be cut, then the West Coast to get this frame, then back to the site in New York. It logged some miles, that granite. There were not many places that manufacture terra cotta tile, but Boston Valley Terra Cotta in Buffalo, NY manufactured all the replacement terra cotta that we needed, and they did the new gargoyles for us as well.
About those gargoyles: You had to replace nearly 100, but some of the faces changed from the 1907 originals.
We had my father, who was actually the best of all the ones we did because his face kind of lent itself to being a gargoyle. We had my cousin, who was also an associate and worked on the building and his daughters. And then we did my friend, Doug Gardner, who was one of the people in the Trade Center that perished, so we did his likeness so he could look over that site for eternity.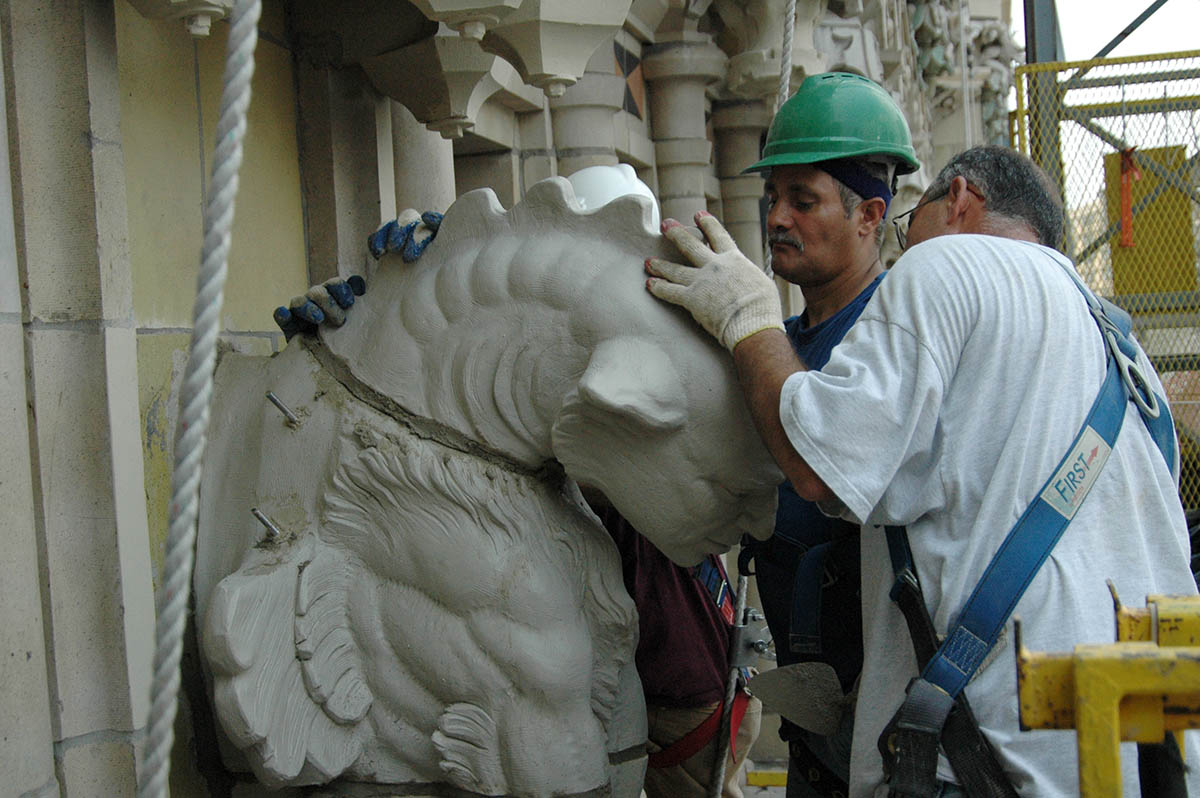 What did your friend's family think about you putting his likeness into the building like that?
It's very difficult for them to even deal with it, because it's just a horrible thing. He had two children that he left behind. But they were touched, and appreciated it for sure.
What was it like for you to work on the building, when just across the street this horrible event had happened that impacted you so personally?
It was hard for me even to be anywhere near there. But you know, eventually after some time passed, I was able to go down there and be okay with it.
The building reopened in 2005. What did its restoration signify for you, New York and human resiliency? Well, that's exactly it, you know? It's rebirth. New York can't be intimidated. We're always going to fight back when something happens.  
This interview has been edited for length and clarity. Watch the full interview with Kibel here.
Program / Center Affiliation