Students Converge at UMD's First Placemaking Hackathon to Brainstorm New Function, Beauty for Familiar Spaces
---
What if student artwork could be displayed, gallery-style on wide panels, along the high-traffic outdoor staircase flanking UMD's Parren J. Mitchell Art-Sociology Building and Campus Drive, bringing the beauty and wonder conceived inside dramatically out on view?
This clever concept wasn't cooked up by a team of award-winning designers, but the work of five undergraduates majoring in architecture, computer science, Spanish and mechanical engineering, developed over 24 hours and powered by pizza and Sour Patch Kids. The group was one of nine to nab $1,000 in prize money this weekend during the University of Maryland's first 24-hour hackathon dedicated to devising great campus spaces.
Sponsored by Terrapin Development Company, the real estate and economic development entity created by UMD and the University of Maryland College Park Foundation. and the School of Architecture, Planning and Preservation (MAPP), PlaceHack challenged teams of undergraduate students to reshape an underused place in College Park into an engaging, inclusive community asset.
Campus administrators and College Park stakeholders offered six very different sites for the students to tackle: the southwest corner of the Stamp Student Union, destined for one of five UMD Purple Line stops; the underused "Artwalk" park near the university's Discovery District; the promenade between Baltimore Avenue and Ritchie Coliseum; the plaza in front of the new College Park City Hall; a stretch of concrete under the School of Public Health's 115-foot overhang; and the exterior, blank canvas of the Mitchell Art-Sociology Building.
"Inside the Parren J. Mitchell building is some of the most visually stunning, interdisciplinary and socially conscious work being done on this campus," said Patrick Warfield, director of the university's Arts for All initiative at PlaceHack's Friday night kickoff. "But if you were to drive past that building or step off one of the dozens of buses that stops there daily, you would have no idea."
After blindly selecting their challenges Friday night, student teams huddled around tables in the Architecture Building's Great Space to strategize over blueprints and satellite imagery. Delegates made site visits and Starbucks runs. University faculty, Facilities Management staff and leadership from UMD's offices of Student Affairs and Academic Facilities ran point as team mentors, encouraging the students to consider the impacts of a growing campus and COVID-19 on how and where people gather, and to create places that are safe, comfortable and welcoming.
"These students are from all over campus and experience these places every day," said Professor of Landscape Architecture Christopher Ellis. "Everybody has their favorite place on campus, and I think, when thinking about these challenges, the students can draw from that."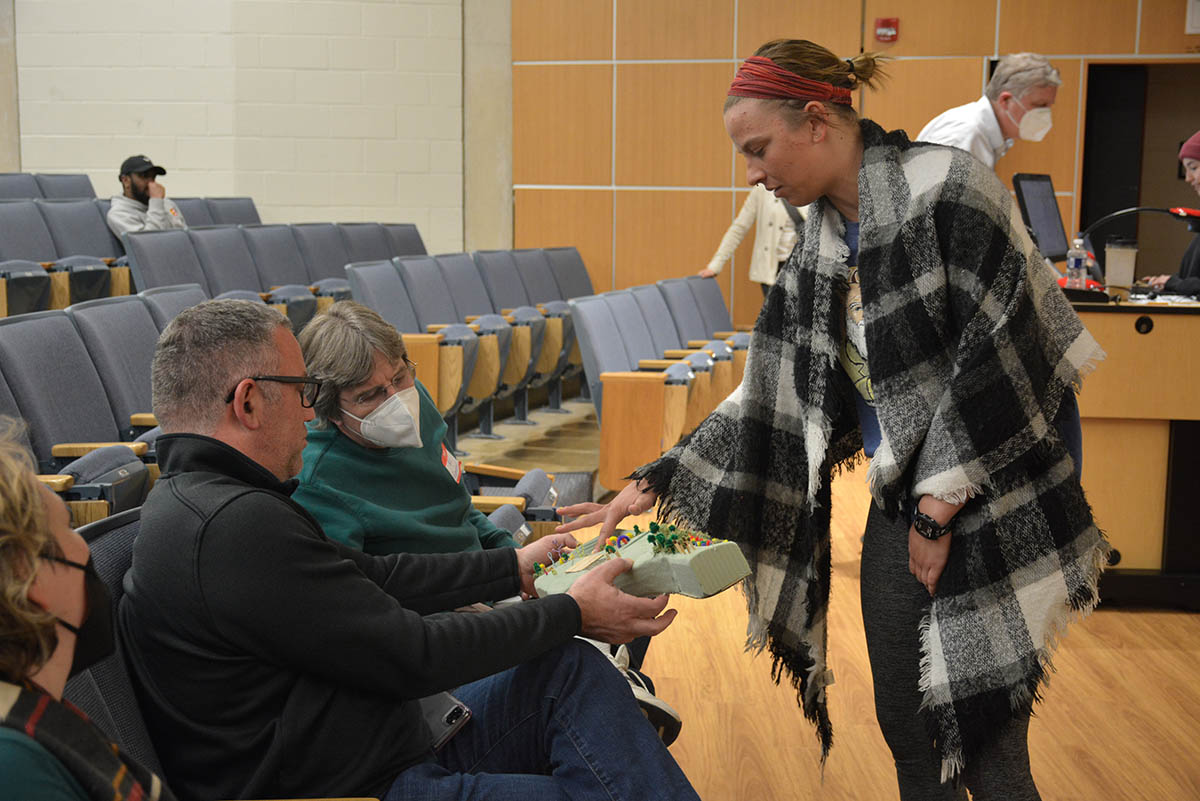 PLACEHack, inspired by Texas A&M's DivHack, was developed by Dawn Jourdan, who joined the university as dean of MAPP in August, to not only bring students together after the pandemic, but to also make good lifelong citizens, which she said is integral to making, preserving and celebrating meaningful places that are for everyone. In addition to the prizes awarded for each challenge, a special award was earmarked for the project most inclusive of diverse cultures, abilities, genders and ages.
"Great spaces are defined by the people who make them," she told the nearly 60 students at the kickoff presentation. "Contemplate this: A good city is like a good party; people stay longer than necessary because they are enjoying themselves. I want you to take one of these six places identified in this challenge and make it a party, but make it a party for everybody."
At PLACEHack, the only real rule of play was the teams' makeup: each had to represent at least three majors and two colleges or schools. Delaney Accomanco '22, a landscape architecture and studio art double major, strong-armed her three roommates to do PLACEHack. While some of her roommates—who are majoring in subjects including criminology and criminal justice, history and ecological technology design—were initially nervous about what they could contribute, they soon found their niches in creating a pitch for a vibrant, community-centric plan for Artwalk, presented in part through a short film directed by team member Eva Sanchez, a journalism major.
"We're all using our talents to come together and I think we're doing something really cool," said Accamanco.
Teams worked into the morning hours and powered through a beautiful spring Saturday to bring new function and life to each site. A tortoise-shaped plaza flanked by lush gardens provided a spirited welcome mat for Purple Line riders disembarking at the Stamp. A doggy day care and family park at the Discovery District pulled triple duty by providing student employment, family engagement, and a daytime pet respite for dog-owning District employees. Fitness at Richie Coliseum was made more community-inclusive with outdoor fitness spaces, a splash pad and a smoothie bar. The School of Public Health's overhang and parking lot went green with student-centric space for events, studying and outdoor classes.
"Vibrant outdoor spaces that bring our community together are critical to our Greater College Park vision, and that's what we saw today," said Ken Ulman, chief strategy officer for economic development. "Terrapin Development Company is honored to support PLACEHack, and we are thrilled to see our brilliant students work together to help bring wonderful places to life."
Bleary-eyed and buzzing, students came away from PLACEHack a little richer, not just with prize money in their pockets, but with a better appreciation for what makes great places.
"This PLACEHack was awesome for us," said Leah Paliakas '24, a public policy and communications major. "It was a way for us to stop being bystanders in our community and more active participants in shaping it."
---
View photographs from PLACEHack 2022 on Flickr.
Program / Center Affiliation